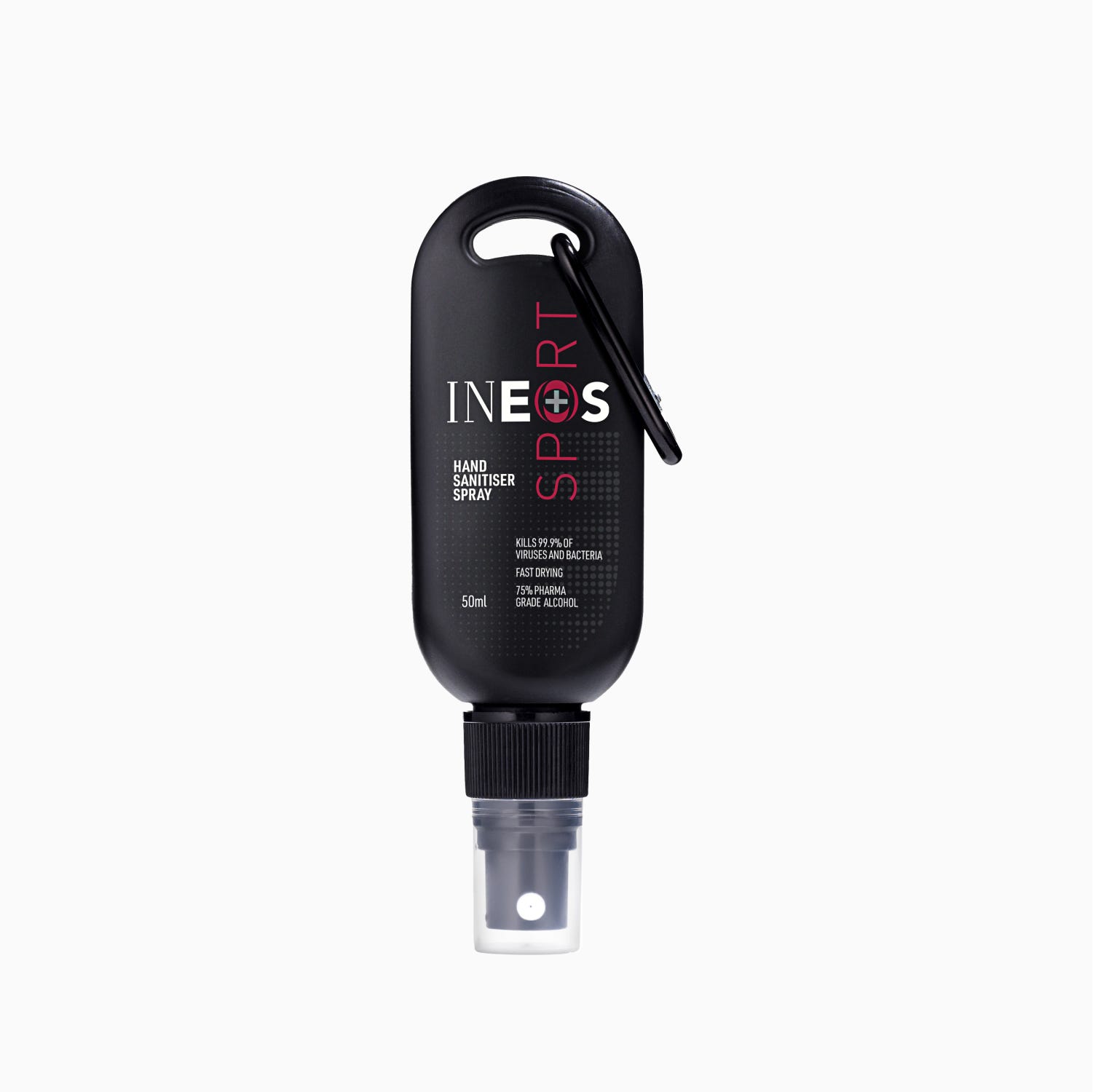 Sport
INEOS Sport Equipment Sanitiser Spray 50ml
For Hands
INEOS Sport Hand Sanitiser Spray is made with your personal best in mind. Developed by INEOS Hygienics as the first of its kind, the specialist fast drying, non-slip formula leaves hands and equipment protected and ready for action.
With a detachable carabiner, this portable hand sanitiser spray is designed to clip on to a bag or belt, for easy application before and after exercise.
With 75% pharma-grade alcohol, this spray offers 99.9% protection against viruses and bacteria. Unlike slippery hand gels, this fast-drying mist spray requires no towels - so hands are ready for action, wherever you go.
Co-developed by athletes, for athletes - keep your streak with INEOS Sport.
Fast Drying

Kills 99.9% of Bacteria + Viruses*

75% Pharma Grade Alcohol
Product Description
Hospital-grade alcohol-based hand disinfectant spray with portable clip.
Application
For personal use before, during and after exercise to prevent the spread of germs. Fast-drying formula means you can use on-the-go, without needing to rinse.
Application Notes
Spray over dry hands, covering fingertips, palms and the backs of your hands. Allow to dry completely for a minimum of 30 seconds without wiping or rinsing.
Important: Our effective and efficient INEOS Sport hand sanitiser does not require the use of towels or tissues, which if used, may lead to recontamination.
Effective
Removes 99.9% of viruses and bacteria.
Formulation
Spray is easy to use on your hands. Keep a distance of approximately 10 centimetres between nozzle and hand.
User-friendly
For frequent use between hand washes and before, during and after exercise. Fast-drying - no need to rinse.
Additives
We ensure no fragrance or colouring agents are added.
Safety Data Sheet
Further information on safety, environmental compatibility, handling, first aid measures and disposal can be found in our safety data sheet.
Operating Instructions
Use biocides carefully. Always read the label and product information before use. The safety information can be found on the label or the safety data sheet.
Poisons Information
For information or to report a poisoning incident contact The National Poisons Information Centre on:
Ireland: +353 (0)18092166
UK NHS Direct: +44 111
Durability
This product has a shelf life of 3 years.
Quality Control
Raw materials for the production of this product are checked qualitatively before use. The finished product is regularly subjected to a quality check.
Product Safety
The ingredients used generally do not have an allergenic effect on the user. Allergy sufferers should always check the list of ingredients before using the product.
Ingredients
75% Ethanol