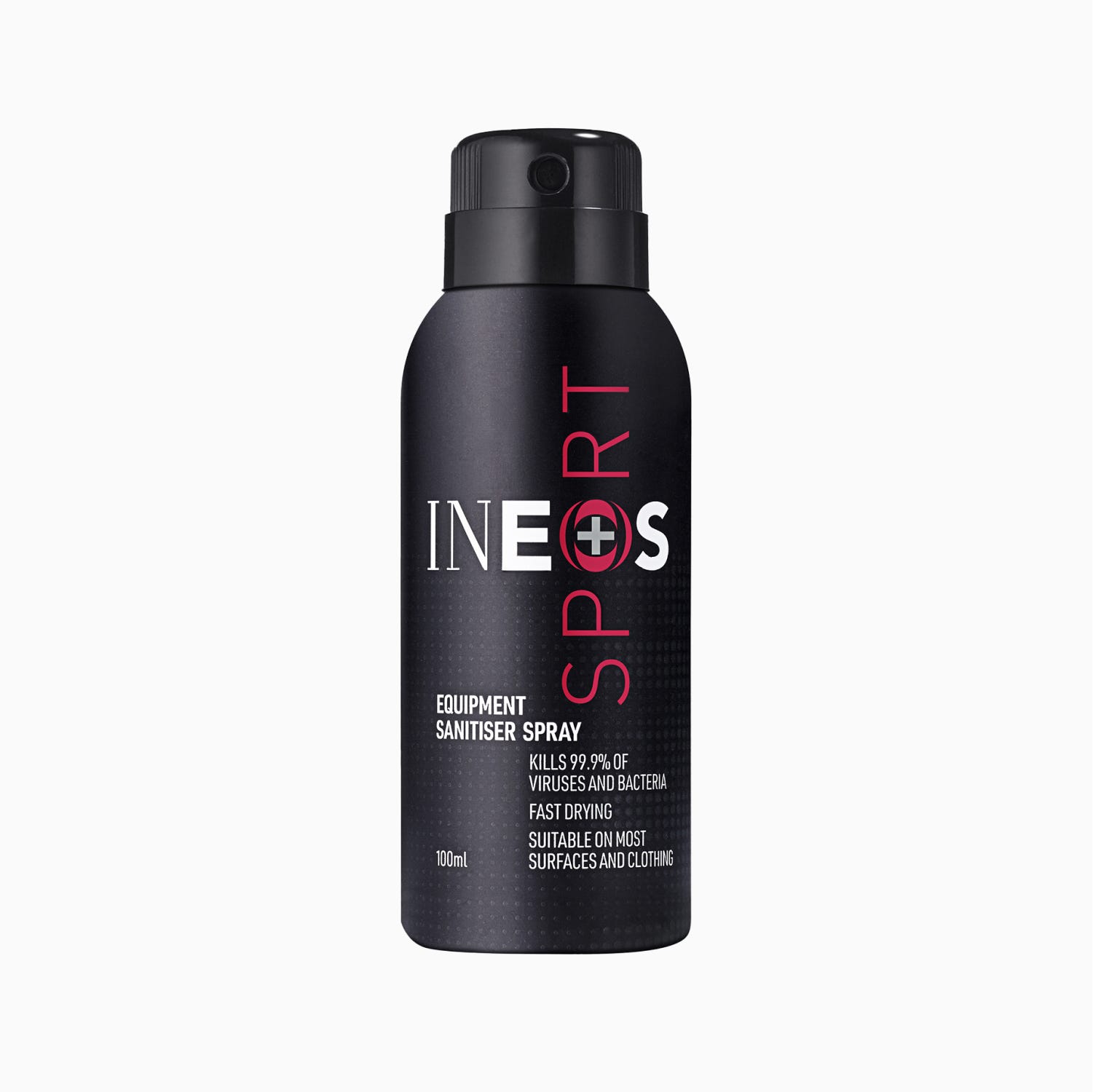 Sport
INEOS Sport Equipment Sanitiser Spray 100ml
For Equipment
INEOS Sport Equipment Sanitiser Spray 100ml is designed to keep your equipment safe and sanitised with minimal effort. With more than 75% pharma-grade alcohol, this formula removes 99.9% of viruses and bacteria.
No need for water or towels, simply spray INEOS Sport directly onto equipment and leave to dry. Perfect for your kit bag - the 100ml format is conveniently sized to take with you to the gym, studio or changing room, meaning you can focus on what really matters - making those gains.
Co-developed by athletes, for athletes - keep your streak with INEOS Sport.
Fast Drying

Kills 99.9% of Bacteria + Viruses*

Suitable on most surfaces and clothing
Product Description
Alcohol-based, fast-drying sports equipment sanitiser spray.
Application
Suitable for most surfaces, equipment and clothing, use before and after exercise to prevent the spread of germs. Fast-drying formula means quick application between equipment usage without needing to rinse or wipe.
Application Notes
Shake well, spray evenly at around 15cm from a pre-cleaned surface and spray until covered with mist. Allow to air dry. No need to wipe. Always test on a small, discreet area before use. Not suitable for polished wood, painted surfaces, leather or acrylic plastics and powered electricals.
Effective
Removes 99.9% of viruses and bacteria.
Formulation
The spray is easy to use on surfaces and equipment. Target a distance of approximately 15 centimetres between nozzle and surface or equipment.
User-friendly
Aerosol-based spray to maximise surface coverage.
Fast Drying
For convenient application between equipment usage and no need to rinse or wipe.
Additives
No fragrance or colouring agents added.
Safety Data Sheet
Further information on safety, environmental compatibility, handling, first aid measures and disposal can be found in our safety data sheet.
Operating Instructions
Use biocides carefully. Always read the label and product information before use. The safety information can be found on the label or the safety data sheet.
Poisons Information
For information or to report a poisoning incident contact The National Poisons Information Centre on:
Ireland: +353 (0)18092166
UK NHS Direct: +44 111
Durability
This product has a shelf life of 3 years.
Quality Control
Raw materials for the production of this product are checked qualitatively before use. The finished product is regularly subjected to a quality check.
Product Safety
This product is an extremely flammable aerosol in a pressurised container and may burst if heated. Protect from sunlight. Do not expose to temperatures exceeding 50°C (122°F). Do not pierce or burn, even after use. Keep away from heat, hot surfaces, sparks, open flames and other ignition sources. No smoking. Do no spray on an open flame or other ignition sources. Keep out of reach of children.
Ingredients
75% Ethanol