WATERLOGIC UK and INEOS Hygienics announce strategic partnership
Press Release
•
7 Mins Read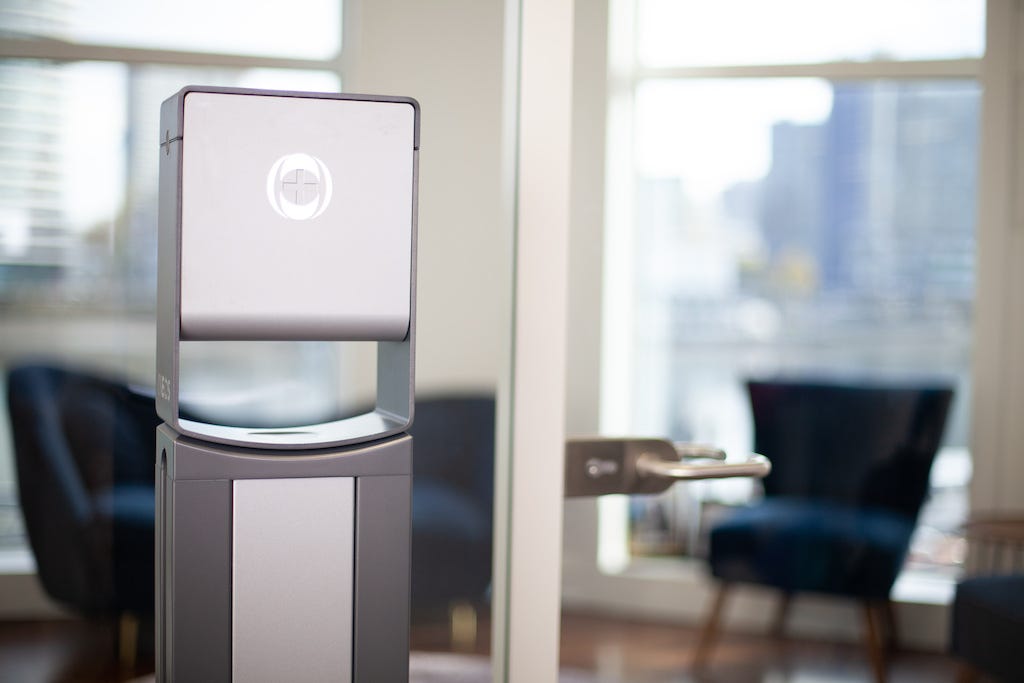 Waterlogic UK forms a strategic partnership with INEOS Hygienics, to offer touchless hand sanitiser dispensers.
The INEOS Sanitiser Dispensers offer a long-term, functional and stylish solution for any business. Adaptable to any environment, the British designed and Swiss-engineered dispensers contain INEOS Hygienics hospital-grade sanitiser that kills 99.9% of viruses and bacteria.
The INEOS Sanitiser Dispensers join Waterlogic's Firewall® water dispensers and range of consumables and accessories to provide a complete package of hygiene solutions that gives confidence to staff, employees and customers to return to the workplace.
Waterlogic, a leading global designer, manufacturer, distributor, and service provider of purified drinking water dispensers, has formed a partnership with global healthcare brand INEOS Hygienics, to add contactless hand sanitising solutions to its existing quality hydration and hygiene products for UK businesses.
The partnership comes at a time when hydration and hand hygiene in business premises is important to their day-to-day operations.
Waterlogic UK will work with INEOS Hygienics to add their precision-designed and engineered touchless hand sanitiser dispensers to Waterlogic's service offering. Available for purchase and rental, these reliable, functional and stylish dispensers complement the Firewall® water dispenser range in providing customers with unrivalled water purity, hygiene and security to give confidence to people returning back to the workplace for offices, education, healthcare and public sectors. Firewall® is Waterlogic's patented UVC purification technology, proven up to 99.9999% effective in eliminating bacteria and viruses from drinking water and effective against COVID-19.
The touchless dispensers have an impressive list of features including hospital-grade sanitiser, variable dosage settings, and low battery and cartridge level indicators. Free-standing, table-top, or wall-mounted, the dispensers are designed to fit into any environment. Tried and tested, INEOS Hygienics' range of dispensers are already used by the Mercedes-AMG Petronas F1 Team and the chosen product for Tottenham Hotspur's state-of-the-art London stadium and Enfield training ground, alongside other notable businesses across a range of industries.
"From consultation, to installation, to maintenance we take great pride in the service we offer. We work with our customers to understand their requirements and provide service packages to meet their needs. Keeping people safe and hydrated is important but should not be a hassle. Adding the INEOS Hygienics touchless hand sanitiser dispensers to our offering has only strengthened our service and we are really excited to be working together to provide a quality solution." Greg Pritchett, Managing Director of Waterlogic UK & Ireland.
George Ratcliffe, COO of INEOS Hygienics adds, "The INEOS Sanitiser Dispenser is not only functional and reliable but it also looks good in any setting. It provides a long-term sanitisation solution that can help businesses to keep their staff, clients and customers safe. As countries begin to open up again and more people begin moving around, we all need to take responsibility to help prevent the spread of viruses and bacteria and our dispensers can help businesses to do this."
Both companies are committed to providing quality products and services, with a customer-centred approach to innovation.
Founded in 1992, Waterlogic has pioneered the application of advanced technology of water dispensers to deliver the safest, best-tasting water to organisations around the world. With its manufacturing operations in Australia, China, and the United States, and an extensive independent global distribution network reaching over 50 countries, Waterlogic prides itself in supplying a Total Care service.
As Europe's largest producer of high-purity synthetic ethanol, INEOS (parent company to INEOS Hygienics) was in a unique position to respond to the global shortage of hand sanitiser when the pandemic struck in March 2020. Moving quickly it set up six new factories across the UK, US and Europe in just ten days, the company has distributed millions of bottles of hospital grade hand sanitiser to thousands of hospitals and medical institutions to help front line health care workers around the world, for free. As countries came out of lockdown, INEOS Hygienics has already proven its credibility with consumers, with hand sanitiser products appearing on shelves in some of the UK's biggest retailers and supermarkets, including Amazon, Sainsbury's, Ocado and Morrisons.
INEOS Hygienics hand sanitiser dispensers are available from Waterlogic today.
----------------------------------------------------------------------
MEDIA CONTACT
For any enquiries please contact Katie Allen on the following
Phone number: 07483 078 520
Email Address: Katie.Allen@waterlogic.co.uk
ABOUT US
ABOUT WATERLOGIC
Waterlogic is an innovative designer, manufacturer, distributor and service provider of drinking water dispensers and accessories designed for environments such as offices, factories, hospitals, restaurants, hotels, schools and public spaces. From freestanding, countertop and integrated dispensers to water filling stations, fountains and boilers, every solution focuses on delivering the best quality water in the safest and most sustainable way. An extensive range of consumables and accessories adapts to customer needs and is available on subscription service to guarantee cost savings and continuous supply.
Founded in 1992, Waterlogic was one of the first companies to introduce mains-fed dispensers to customers worldwide, and has been at the forefront of the market promoting product design and water quality, the application of proprietary technologies, sustainability and world-class sales and service.
Waterlogic has its own subsidiaries in 18 countries and its core markets are the U.S., Australia and Western Europe, in particular the UK and Germany. The company drives growth organically and through M&A to consolidate its lead in existing territories and extend its reach to new markets. In addition, Waterlogic's extensive and expanding independent global distribution network spans over 50 countries around the world in North and South America, Europe, Asia, Australia and South Africa. Its far-reaching market coverage means Waterlogic is the only water dispenser provider able to cover the full geographical needs of global customers under one roof.
ABOUT INEOS HYGIENICS
INEOS Hygienics is a global healthcare brand, which started during the pandemic to meet the global shortage of sanitising products. In just ten days each, six plants were installed in the UK, US and Europe to start producing hand sanitiser. Each plant is designed to produce 1 million bottles of hand sanitiser every month, this large volume of which was distributed for free to hospitals in the UK, US and throughout Europe.
Now, INEOS Hygienics is providing the same hospital grade sanitisers to the public. Available to purchase on Amazon and in other retailers and pharmacies across the UK and Europe, INEOS Hygienics produces a range of hand sanitiser gels, sprays and wipes in a variety of volumes and pack sizes.
INEOS Hygienics also produce touchless hand sanitiser dispensers for the home and business. The dispensers for home come in four different colours, while the business dispenser is customisable for brands. Free-standing, table-top or wall-mounted, the dispensers feature touchless dispensing of hospital grade sanitiser, variable dosage settings, a rechargeable lithium-ion battery, and lights to indicate low battery life and cartridge levels.