INEOS Hygienics reflects on 1 year in business
Press Release
•
3 Mins Read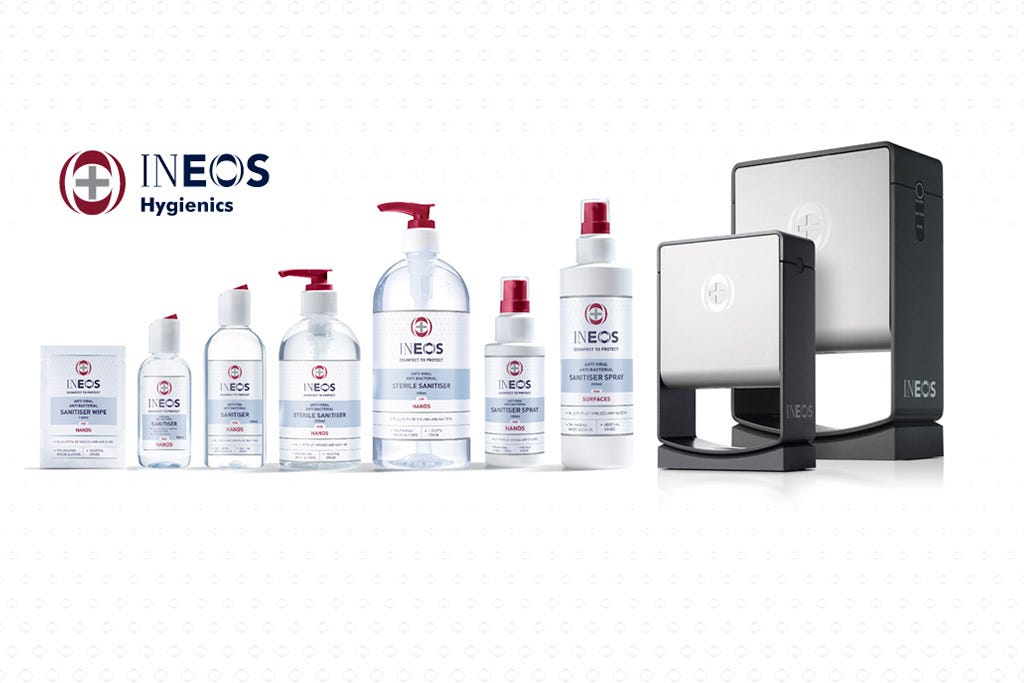 INEOS Hygienics, the global healthcare business, is reflecting on an eventful year since it set up new manufacturing plants in Europe and the USA in less than ten days each, to meet the critical shortage of hand sanitiser at the start of the COVID 19 pandemic.
INEOS successfully delivered millions of bottles of hand sanitiser to thousands of hospitals free of charge across the UK, Europe and the USA.
Since then, INEOS has launched a new consumer business to continue to meet the public's needs. Through INEOS Hygienics it now has a range of hand sanitisers and sprays, as well as touchless dispensers, available online and in stores. And there is more promised in the coming months.
George Ratcliffe, COO of INEOS Hygienics says, "The past year has been incredibly difficult for people the world over. We have played our part to help. Our support for nurses and frontline workers, extended to meeting the needs of the public as we have moved in and out of lock downs. Born out of the shared need to protect our healthcare workers, INEOS Hygienics are now supplying hospital grade sanitiser products to the public, online and through retail outlets. I'm very proud of the origins of the business and how hard it has worked to meet the people's needs during a very challenging time."
On 24th March 2020, INEOS announced it would build manufacturing plants in the UK, Europe and USA in less than ten days each, to help deliver millions of bottles of hand sanitiser to thousands of hospitals, free of charge.
After easing the shortage of hand sanitiser for nurses and front line staff, INEOS turned its focus to the public. It recognised how the pandemic was going to change people's long term attitudes towards hand hygiene, and began the supply its hospital grade hand sanitiser on-line and through retailers.
The INEOS Hygienics business formally launched in August 2020 at the Silverstone Grand Prix, with a range of sanitiser products that are now stocked in retailers, Sainsbury's, Morrisons and Ocado, and online through Amazon. The business has also developed a sleek, touchless dispenser range, which already features throughout high profile venues such as the Tottenham Hotspurs Football Club stadium.
INEOS Hygienics has also helped children across the UK return to school safely through its "ZERO Days: Back to school programme." With the help of Sir Dave Brailsford, Sir Lewis Hamilton and the INEOS sports teams it is estimated that over 100,000 children have received access to the free resources including assembly videos, posters and lesson plans.
George Ratcliffe Chief Operating Officer, INEOS Hygienics says: "As we cautiously look forward to a return to some normality, I'm enormously proud of INEOS Hygienics over the last 12 months. We know that the pandemic is far from over, but we're optimistic about the future, and we will continue to provide the products to give people confidence to protect themselves, their families, friends, colleagues and employees."|
ENDS.
Media Contacts
Richard Longden (INEOS)
Richard.longden@ineos.com
+41 (0) 799 626 123
Emily Northcott (Media Zoo)
emily.northcott@mediazoo.tv
+44 (0) 20 7384 6980
+44 (0) 7876 033636
NOTES TO EDITORS
INEOS Hygienics is a global healthcare brand, which started during the pandemic to meet the global shortage of sanitising products. In just ten days each, six plants were installed in the UK, US and Europe to start producing hand sanitiser. Each plant is designed to produce 1 million bottles of hand sanitiser every month, this large volume of which was distributed for free to hospitals in the UK, US and throughout Europe.
Now, INEOS Hygienics is providing the same hospital grade sanitisers to the public. Available to purchase on Amazon and in other retailers and pharmacies across the UK and Europe, INEOS Hygienics produces a range of hand sanitiser gels, sprays and wipes in a variety of volumes and pack sizes.
INEOS Hygienics also produce touchless hand sanitiser dispensers for the home and business. The dispensers for home come in four different colours, while the business dispenser is customisable for brands. Free-standing, table-top or wall-mounted, the dispensers feature touchless dispensing of hospital grade sanitiser, variable dosage settings, a rechargeable lithium-ion battery, and lights to indicate low battery life and cartridge levels.