INEOS Hygienics partners with Parkletics to support Shildon Community wellbeing
Press Release
•
4 Mins Read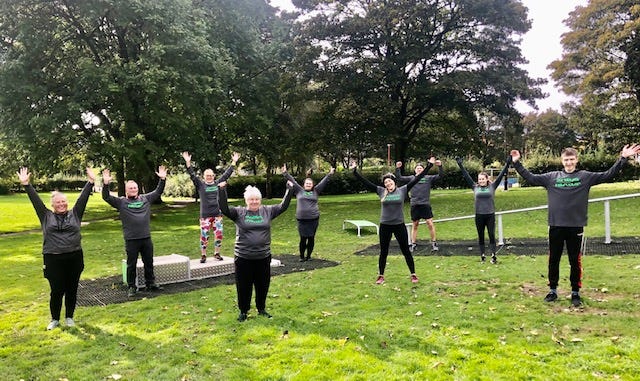 INEOS Hygienics, which has a major plant in Newton Aycliffe, has partnered with social enterprise Parkletics to create outdoor exercise spaces for the local community in nearby Hackworth Park.
Parkletics is a brand-new fitness movement specifically designed for all ages, fitness levels and body shapes.
A brand-new fitness movement called Parkletics has launched an outdoor gym to help families and communities to have fun keeping fit at Hackworth Park. The gym is specially designed so that all ages, body shapes and fitness levels can benefit, thanks to the expertise of Sheffield Hallam University's sports department. Parkletics also provides a free supporting iPhone app which tracks your fitness level and confidence. The app suggests new exercises and circuits as your fitness and strength increases, with the option of creating fitness groups with friends or family. INEOS Hygienics, which manufactures its hand sanitizer and other sanitizing products in Newton Aycliffe, has provided funding for the project as part of their investment in local communities.
George Ratcliffe, INEOS Hygienics COO, said of the project "INEOS is passionate about promoting health and fitness, and this is more important now than ever. We're proud to be an active member of the community around Newton Aycliffe and hope our neighbours in Shildon get great value from Parkletics brilliant free outdoor exercise equipment."
Community-building is central to the project. Parkletics began when its founder, Beth Hayward, saw a need in her own community for a playground, while other locals wanted an outdoor gym. Hayward saw a way of providing both at the same time in a way that would bring her community together and achieve her other passion: reducing barriers to exercise. INEOS' community work stretches back through the company's 21 year history, with it most recently setting up several hand gel manufacturing plants, including that at Newton Aycliffe, to provide vital sanitizer supplies at the height of the Covid-19 pandemic.
Tracey Bellas at Shildon Town Council said ''The Parkletics equipment has caused quite a buzz in Shildon and we are all looking forward to trying this accessible equipment which will benefit our whole community. The installation of the equipment went smoothly, and visually, it looks great in Hackworth Park!''
Representatives from Shildon Town Council, ShildonAlive, and County Durham Sport attended the launch of the Parkletics gym last Wednesday where they were given a first training session by Parkletics trainers. Further free training days for members of the community are due to take place over the next months.
Parkletics are glad to be able to offer something positive to communities during the Covid-19 pandemic. The gym equipment is outdoors and more than 2 metres apart, meaning families and communities can exercise safely together, boosting both physical and mental health. "This is just the start of Parkletics," says Hayward, "and it's really exciting."
ENDS
MEDIA CONTACT
Ursula Heath (INEOS)
E: ursula.heath@ineos.com
T: 07979 507612
Emily Northcott (Media Zoo)
E: emily.northcott@mediazoo.tv
T: 07876 033636)
Emily Drake (Media Zoo)
E: emily.drake@mediazoo.tv
T: 07769 158292
NOTES TO EDITORS
INEOS
INEOS, a global manufacturer of petrochemicals, speciality chemicals and oil products, directly responded to the Covid-19 pandemic this March by building 7 new production facilities in the UK, France, Germany and the United States to produce medical grade hand sanitizer. Each facility has been supplying 1 million bottles per month for free to hospitals and frontline healthcare services across Europe and the USA during the pandemic peak, and will shortly be making the bottles available for retail to the general public.
Parkletics:
Parkletics is a new movement that champions the most natural way to enjoy a more active, social and happier life.
Natural outdoor exercise equipment that has been uniquely designed in collaboration with Sheffield Hallam University's Social Science Faculty.
Contact: bethhayward@parkletics.com