INEOS Hygienics launch 'Go Humans Academy' digital content series led by The New Zealand All Blacks XV
Press Release
•
5 Mins Read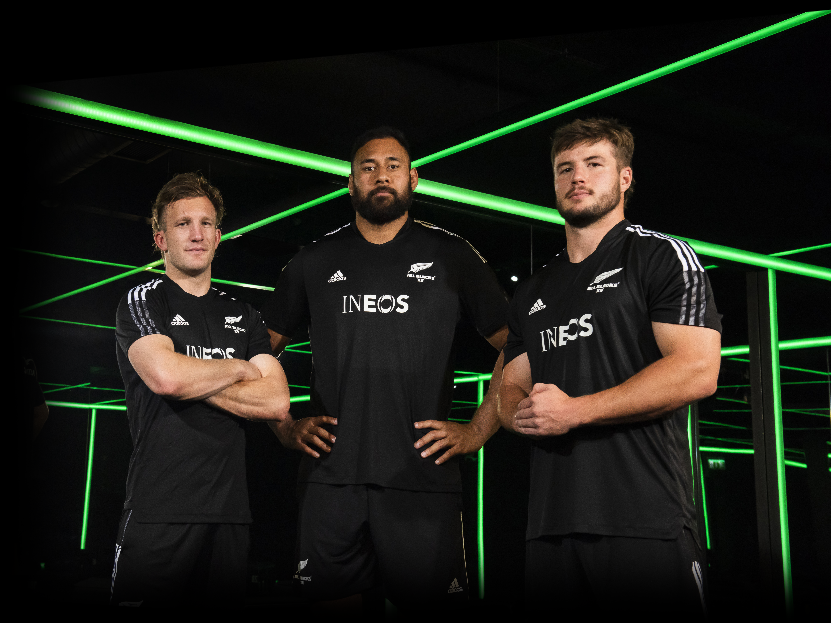 This January, the UK's fastest-growing hygiene brand INEOS Hygienics is launching the 'Go Humans Academy'; a year-round, digital content series to support people to live better, longer.
More than just life hacks, this whole-life programme brings together the latest in mental and physiological fitness, neurobiology, and emotional health thinking to help people across the UK to perform at their best to handle anything life throws their way.
The new digital series, created and produced by integrated creative comms agency The Prophets, is divided into three month-long masterclasses and will be released throughout 2023, officially launching on January 25th, with enrolment week commencing from January 18th.
INEOS is known for its ownership and sponsorship of some of the world's most successful sports teams. It is adept at getting the best from them, from both a mental and physical standpoint, which is why INEOS will lead each phase of the Go Humans Academy with their elite athletes, to share their expertise with the nation.
To ensure a holistic programme that is as accessible as possible, working alongside these top INEOS athletes are world-class industry experts and creatives, recruited for their prowess across different aspects of life. From self-care and wellbeing to fitness and creativity, their skill is making their expertise understandable and attainable.
The first phase of the Go Humans Academy, launching on January 25th, will look at Mental & Physical Fitness, starring the New Zealand All Blacks XV rugby team, and supported by a host of leading talent, including:
- GRNDHOUSE (strength-based online workout destination)
- Kimberley Wilson (chartered psychologist and nutritionist)
- Harry Jameson (wellbeing expert and personal trainer)
This phase introduces the concept of mental fitness, teaching what we might get wrong about self-care, and the foundations of meaningful wellbeing.
For 30 days, INEOS Hygienics will challenge the nation to take on a series of masterclasses designed to supercharge mind and body.
Challenges, content, and competitions will be accessible on INEOS' social channels, as well as a dedicated streaming platform on the INEOS Hygienics website.
David Rogers, Co-Founder of The Prophets said "INEOS are experts in science and performance - and prioritising yourself is easier when the science is covered, meaning you can focus on the task at hand.
"We've recruited an impressive team of INEOS athletes alongside supporting world-class talent to create the Go Humans Academy, where people can expect video coaching from elite athletes, experts and creatives across different aspects of life, in a way that's engaging and truly beneficial to the viewer."
Humans can achieve anything, with the right support and the Go Humans Academy will give people the tools to handle anything life throws their way, using the concept of 'marginal gains'; small, daily incremental changes that can lead to life-changing results.
Working alongside education charity The 1851 Trust, a specially adapted version of the INEOS Go Humans Academy will also be created for teenage students, ages 11-14 years.
A series of educational resources will be created and shared with secondary schools across the country to encourage students to take part in a range of challenges that emphasise the importance of understanding our minds and bodies.
The aim of the resources is to motivate young people to talk about and explore the science behind physical and mental health, while equipping them with the tools they need to be ready to handle anything.
As the UK's fastest-growing hygiene solutions provider, INEOS knows that keeping your health and wellbeing in check is essential to achieving your goals - and changing your routine to support your goals is easier when you take it one step at a time.
It's easier to stick to a routine when you understand the science behind it, which is why the INEOS Go Humans Academy athletes and experts are here to support you through, so you can focus on the tasks at hand.
In 2023, let INEOS prove that you can handle anything.
ENDS
To watch the 'Go Humans Academy' content series,
follow @ineoshygienics on Instagram and YouTube channel
Notes to Editors
ABOUT INEOS:
As Europe's largest producer of high-purity synthetic ethanol, INEOS was in a unique position to respond to the global shortage of hand sanitiser when the pandemic struck in March 2020. Manoeuvring quickly to establish six new factories across the UK, US and Europe in just ten days, the company has distributed millions of bottles of hospital grade hand sanitiser to thousands of NHS, medical institutions and front-line health care workers around the world, for free.
INEOS Hygienics is the official supplier of hand sanitation products to international sporting teams including Mercedes-AMG Petronas F1 Team, Tottenham Hotspur FC, INEOS Grenadiers and INEOS TEAM UK, helping to ensure that teams can continue to compete safely and with confidence.