INEOS Hygienics continues retail expansion in the UK with Sainsbury's and Ocado
Press Release
•
4 Mins Read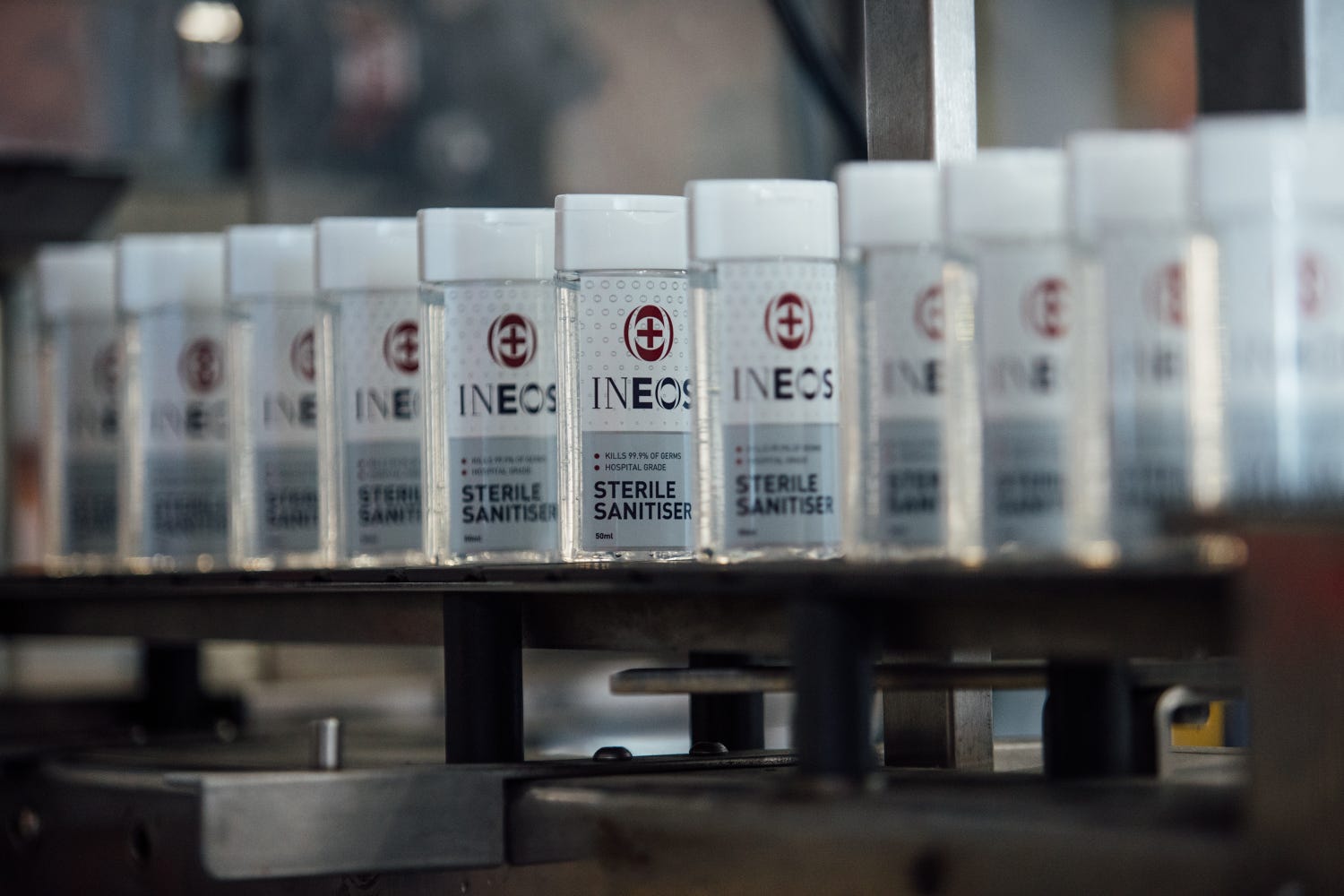 Follows the decision of Morrisons and German pharmacy group Rossman to stock the new INEOS Hygienics range of sanitisers, wipes, and cleansers.
The INEOS Hygienics business was created in 2020 to address the global shortage of hand sanitiser. INEOS built six factories each in under ten days to produce millions of bottles to supply thousands of hospitals free of charge.
INEOS Hygienics launched as a global consumer healthcare business last year backed by Mercedes-AMG Petronas Formula 1 Team and a nationwide advertising campaign across TV, outdoor and digital media.
George Ratcliffe, Chief Operating Officer, INEOS Hygienics says, "As a challenger brand in this established sector, it is very positive that British retail giants Sainsbury's and Ocado have made the decision to stock INEOS Hygienics. Consumers can now find our products on the shelves of some of the UK's biggest retailers and supermarkets, as well as through Amazon. Our products are used and trusted by the NHS, giving consumers the same level of protection every day."
INEOS Hygienics continues its UK retail expansion with Sainsbury's and Ocado now selling the INEOS Hygienics range of sanitiser products. The hospital grade products include hand sanitiser gel, wipes, and sprays for use around the home.
In the UK, INEOS sanitiser is now stocked in Sainsbury's, Ocado, Morrisons, Amazon and other wholesalers. In Europe, Germany's largest pharmacy Rossman and retailer Monoprix in France, are stocking the Hygienics range and talks continue with other continental retailers. INEOS Hygienics is also in discussions with a number of well-known US retailers.
George Ratcliffe Chief Operating Officer, INEOS Hygienics says, "Everyone is now more aware of the importance of hand hygiene and the need for effective sanitising products. At INEOS Hygienics, we're determined to ensure our hospital grade products are available to meet demand from the public, around the world. We will continue to speak to major retailers across Europe and America to help them support their customers during this difficult period."
INEOS Hygienics was created in response to the global shortage of hand sanitiser to help in the fight against Covid-19, and the business gave millions of bottles of high purity hospital grade sanitisers for free to thousands of hospitals and millions of healthcare workers in the UK, Europe and USA.
The consumer business formally launched in July 2020 at the British Grand Prix, Silverstone and last month ran a nationwide consumer advertising campaign across TV, outdoor and digital media in the UK. Further global campaigns are planned as the business looks to expand across the UK, Europe, and the USA.
NOTES TO EDITORS
Media Contacts
Richard Longden (INEOS)
Richard.longden@ineos.com
+41 (0) 799 626 123
Andrew McLachlan (Media Zoo)
Andrew@mediazoo.tv
+44 (0) 20 7384 6980
+44 (0) 7931 37716
About INEOS Hygienics
INEOS Hygienics is a global healthcare brand, which was established in 2020 to meet the global shortage of sanitising products. In just ten days each, six plants were installed in the UK, US and Europe to start producing hand sanitiser. Each plant is designed to produce 1 million bottles of hand sanitiser every month, this large volume of which was distributed for free to hospitals in the UK, US and throughout Europe.
Now, INEOS Hygienics is providing the same hospital grade sanitisers to the public. Available to purchase on Amazon and in other retailers and pharmacies across the UK and Europe, INEOS Hygienics produces a range of hand sanitiser gels, sprays and wipes in a variety of volumes and pack sizes.
INEOS Hygienics also produce touchless hand sanitiser dispensers for the home and business. The dispensers for home come in four different colours, while the business dispenser is customisable for brands. Free-standing, table-top or wall-mounted, the dispensers feature touchless dispensing of hospital grade sanitiser, variable dosage settings, rechargeable lithium-ion battery, and lights to indicate low battery life and low cartridge levels.