INEOS enlists Sir Dave Brailsford and his cycling organisation to deliver new hand sanitiser to NHS hospitals
Press Release
•
12 Mins Read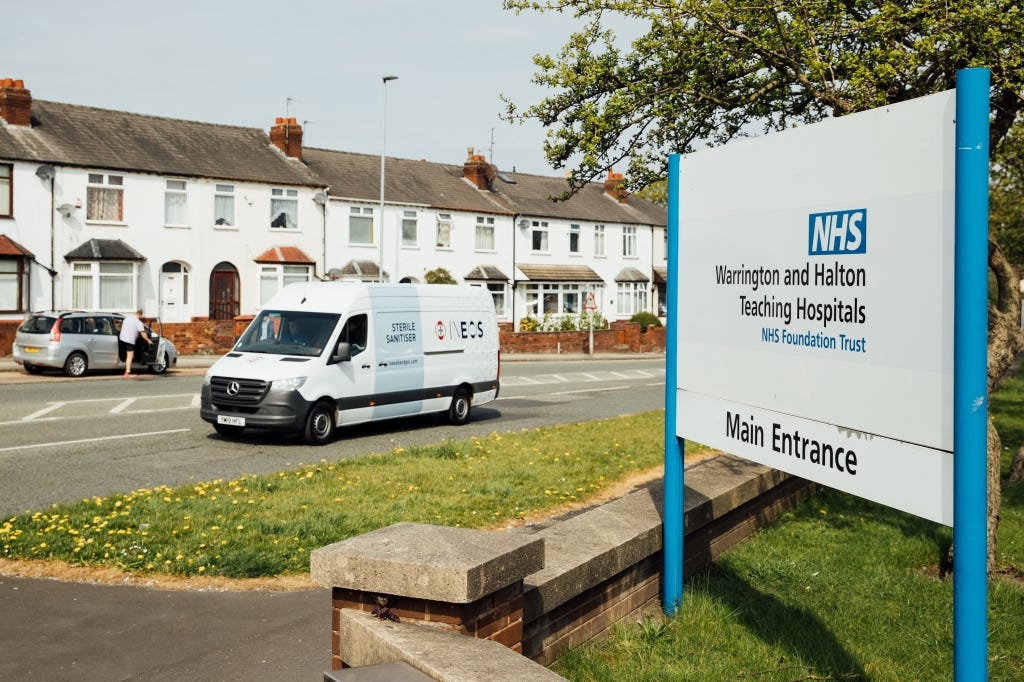 Up to a million bottles of INEOS new hand sanitiser have started being delivered to NHS hospitals across the UK just ten days after the plan was announced.
The project initiated by Sir Jim Ratcliffe is now being supported by Sir Dave Brailsford and his Tour de France winning cycle team.
The initial deliveries are going from the INEOS production plant at Newton Aycliffe in the North East to 28 hospitals around the country.
INEOS is now producing almost 200 different products that are being used in drugs, testing kits, ventilators and protective clothing in the fight against the Coronavirus and the US Dept of Homeland Security has described many as being "critical to national resilience" from basic sanitation through to the search for a vaccine.
Sir Jim Ratcliffe, founder and chairman of INEOS, says, "Getting the hand sanitiser into production in just ten days was a huge team effort and Team INEOS, led by Sir Dave Brailsford have made a great contribution alongside the rest of the INEOS family. We knew there was a massive shortage of hand sanitisers across the UK and that speed was crucial. We believe these INEOS sanitisers will play a key part in the fight against the virus, helping protect our NHS front line staff and vulnerable people across the country."
INEOS, one of the largest manufacturing companies in the world, has today announced that it has started delivering a million bottles of hand sanitiser a month to NHS hospitals across the UK.
The project brought together the manufacturing and enterprise of INEOS led by Sir Jim Ratcliffe and the racing team logistics led by Sir Dave Brailsford, the Team Principal of Team INEOS. This major initiative has brought together the very best of all INEOS and its teams in a race against the clock.
INEOS announced that it would bring its production plant at Newton Aycliffe in Teesside online in just ten days and that deliveries would start immediately afterwards. It has repeated this in Herne Germany and Lavera in France and earlier this week announced a fourth facility in North East France at Étain.
Working closely with NHS Trusts, as of today, INEOS hand sanitisers are being delivered to 28 hospitals across the UK including Grangemouth, Halton, Teesside, Derby and London. Wider distribution will follow as the plant reaches full capacity.
INEOS is first focusing on meeting the needs of front line medical and care services before making "pocket bottle" hand sanitisers available for people's personal use. These will all be produced to World Health Organisation specifications.
Hand to mouth contamination is one of the main ways that the Coronavirus infects people and there is a critical shortage of hand sanitisers across the UK and Europe.
Sir Dave Brailsford, Team Principal, Team INEOS, says, "The British government asked industry to help and INEOS was proud to answer the call. Team INEOS is used to moving at speed but ten days from start to finish for three plants already was incredibly tight. We are all in this together and I am grateful to everyone in the entire INEOS family for their hands-on approach to getting the job done."
All of INEOS nine polymer and chemical divisions are currently supplying products for the medical and pharmaceutical industries and many of them are now being used in the fight for CV19 vaccines and treatments.
Its products are essential for the production of essential health products in the medical field, including rubber gloves, PVC saline infusions, syringes, ventilators, medical tubes. Its products purify public drinking water. It produces raw materials for soap, phenol for aspirin and paracetamol, and its acetonitrile is used in essential pharmaceutical analysis in the procedures necessary to find a vaccine.
The US Department of Homeland Security has even described INEOS Acetonitrile, IPA and Acetone as "Critical to ensure National Resilience" in their CV-19 response.
Sir Jim Ratcliffe, founder and chairman of INEOS adds, "INEOS is a company with enormous resources and manufacturing skills. We are not only planning to produce a million bottles of hand sanitiser a month in the UK but the same again at similar facilities in Germany and France. If we can find other ways to help in the Coronavirus battle, we remain absolutely committed to playing our part".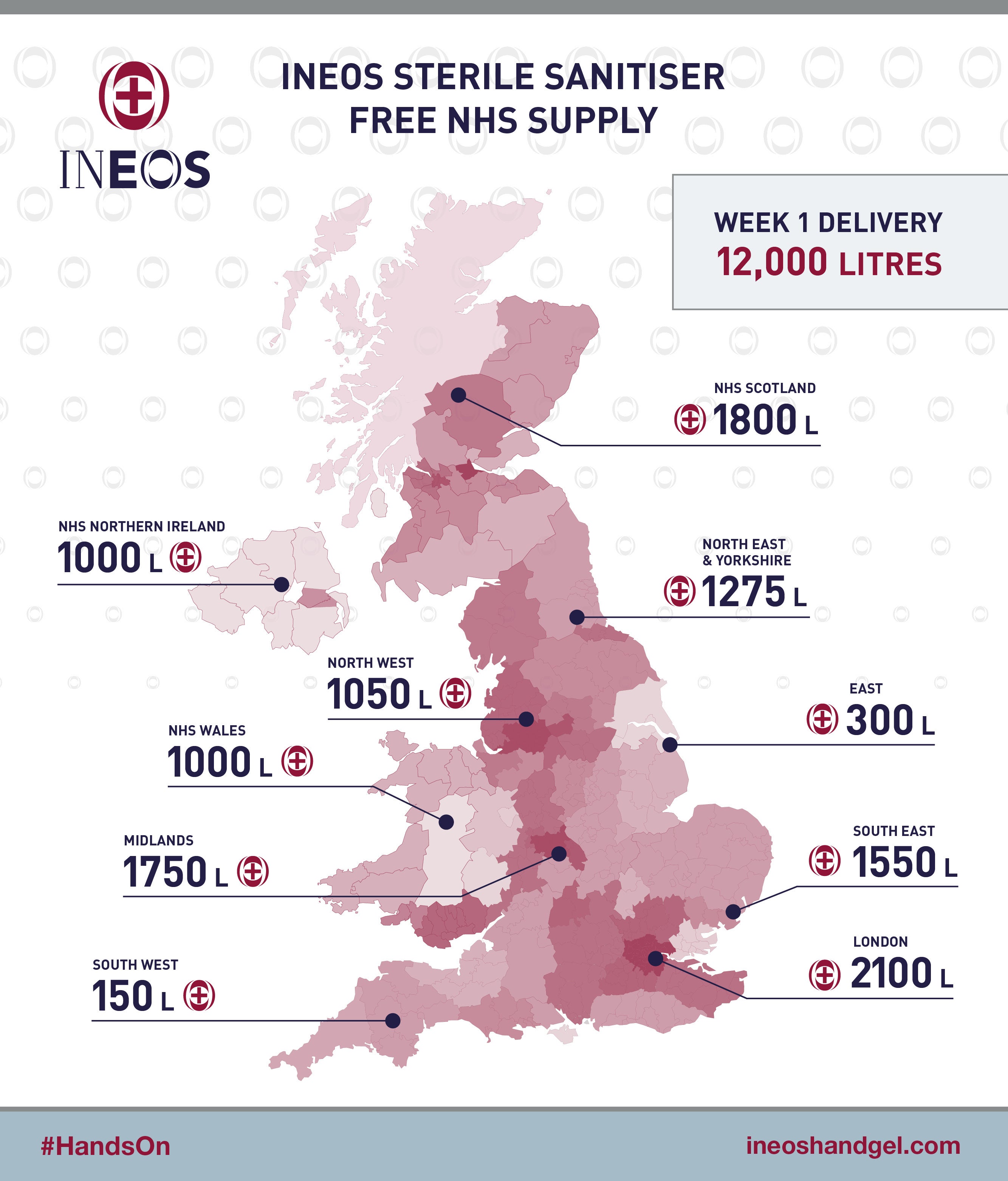 ENDS
Please copy and paste these links into Vimeo to download VNR Content
VNR (main) https://vimeo.com/406127689/b29532257f
VNR Clean (no music, not gfx) https://vimeo.com/405969925/ce067a0470
b'roll (clean) https://vimeo.com/405977973/5b93c52b47
interviews (clean) https://vimeo.com/405984680/0e72d09cc4
FOR INTERVIEWS, PLEASE CONTACT:
Richard Longden (INEOS)
0041 21 627 7063
0041 7996 26123
Andrew McLachlan (Media Zoo)
andrew@mediazoo.tv
07931 377162
Chris Hall (Media Zoo)
chris.hall@mediazoo.tv
07739571634
NOTES TO EDITOR
About INEOS
INEOS is one of the world's largest chemicals companies and the 50th largest business in the world, employing around 22,000 people across 183 sites in 26 countries. It is a privately-owned company with sales in 2018 of $60bn and EBITDA of $7bn. In addition to its growth in petrochemicals, it has acquired oil & gas fields in the UK, Denmark and Norway and is a top 10 company and the biggest private enterprise operating in the North Sea.
INEOS is the leading European producer of the two key raw materials needed for sanitisers – isopropyl alcohol (IPA) and ethanol and has built 3 factories that will produce hand sanitiser with a fourth recently announced. These bottles will be given free to the NHS and hospitals then will be made available to the public. These will be produced according to World Health Organisation specifications.
Visit ineos.com to learn more.
About Warrington and Halton Teaching Hospitals NHS Foundation Trust
The Warrington and Halton Teaching Hospitals NHS Foundation Trust is the first hospital to receive free hand sanitiser from INEOS which will help to keep our front -line workers safe in the fight against COVID-19.
The first product left INEOS' factory in Newton Aycliffe by truck at 9.00am on Thursday morning. The first 450 litres of hand sanitiser, delivered free of charge to the staff. INEOS are giving hand sanitiser to the NHS free of charge during the current pandemic. It will produce 1 million bottles a month from each of its four sites, produced to World Health Organisation specifications.
INEOS are currently delivering hand sanitiser to hospitals across the UK from its factory in Newton Aycliffe. It operates similar facilities in Herne Germany and Lavera in France.
One of the NHS staff on hand to receive the INEOS hand sanitiser was John Goodenough Deputy Chief Nurse at Warrington & Halton Hospital who said:
"When we are fighting Coronavirus, hand washing and use of hand sanitiser is essential in order to stop the spread of infection. I think it's absolutely fantastic that British manufacturers have stepped up to fight against Coronavirus and we're in this together."
Additional quotes from Sir Dave Brailsford, TEAM INEOS Principal;
"The need for hand sanitiser is so important across all areas of society but in particular for the healthcare workers who are going into the hospitals and working on the frontline, they really do need to be protected themselves and protected against spreading the virus. There is that critical need that we are trying to meet with this particular project."
"The team at INEOS moved incredibly quickly, Sir Jim set them the target of creating, from scratch, a production line in ten days up in the north of England and also in France and in Germany. All three teams have achieved that which is quite remarkable really, so the plants are up and running, and the aim is to ramp up that production over the coming days and make sure that gets out to the people that need it the most on the front line."
"Let's face facts, in elite sport, we work in an environment where it is an entertainment business and a lot goes to a few. That's how that ecosystem works and this feels like an opportunity where the few can give back to the lot as it were. On a normal day to day basis it's the sports stars and the professional performers that everyone comes to watch and support. It feels like the tables have changed and the performers are now the health workers, the front line staff and NHS are doing such an amazing job - they are the performers, they are the ones that everyone is admiring at the minute, and us as the normal sports industry, we are the fans and supporting and watching them. The tables have changed and we see a greater mobilisation of those who work in sport trying to do everything they can to support the NHS and it is a real privilege. I am really enjoying it, being able to do a little something to support everybody at this time where it is most needed."