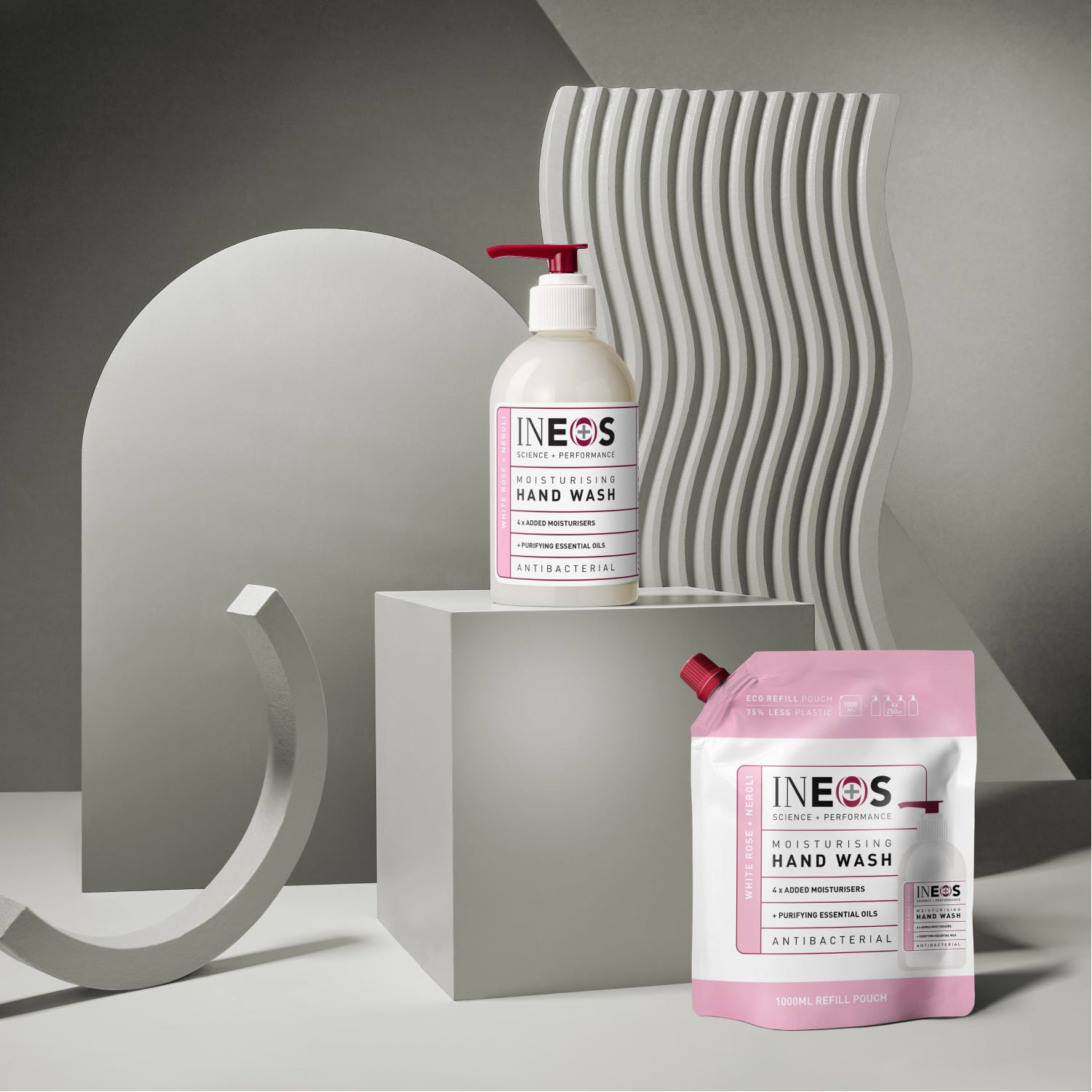 Hand Wash
White Rose + Neroli Moisturising Hand Wash 1000ml Refill
Fragrance
White Rose + Neroli
For Hands
This is no ordinary soap. Our White Rose + Neroli Moisturising Hand Wash includes all the elements you'd expect from INEOS Hygienics - our hand-protecting antibacterial and nourishing ingredients, infused with the latest in fragrance science.
Kind to Skin

Formulated with INEOS Active Fragrance Technology

Moisturising

Rejuvenating
Formulated with INEOS Active Fragrance Technology, our in-house fragrance technology featuring purifying essential oils and phytoncides. Phytoncides are dual-action molecules emitted by plants and trees which inhibit the development of bacteria, whilst releasing aromas which help combat feelings of stress and fatigue.
Ideal for sensitive hands and everyday use, this hand wash contains a unique blend of four moisturisers. Proven to assist in improving the condition of your skin and maintaining a strong protective barrier, 80% of people found that their skin felt 'extremely moisturised' after using our hand wash.* So when it comes to keeping hands soft and safe, we have you covered.
The INEOS Hygienics White Rose + Neroli Hand Wash comes in a handy 250ml bottle. The 500ml and 1000ml refill pouches use 75 percent less plastic than the equivalent number of bottles and pumps, reducing plastic waste, while keeping you safe and sanitised.
Bring the science of hygiene and natural well-being benefits into the palm of your hand.
*To verify please contact cc.hygienics@ineos.com
Fragrance notes
All fragrances across our portfolio contain fragrances known to enhance performance. Our INEOS Fragrance Laboratory is our unique fragrance library which characterises our fragrances according to their known performance enhancing benefits.
Moisturisers
With a Unique blend of four moisturisers to keep your skin hydrated.
Application
Pump hand wash twice onto wet hands, massage into a lather for up to one minute, rinse and dry.
Handling: As with all cleansers, if product gets into the eyes, rinse well with water.
Storage
Do not store in direct sunlight.
Effective
Antibacterial properties keep hands hygienic.
User-friendly
Easy to pour refill pouch.
Dermatologically Tested
Kind to skin.
Ingredients
Aqua, Sodium Laureth Sulfate, Sodium Chloride, Cocamidoipropyl Betaine, Glycerin, Lactic Acid, Citrus Auranthium Amara Flower Extract, Rosa, Gallica Flower Extract, Polyglyceryl-3 PCA, Styrene/Acrylates Copolymer, Tetrasodium Glutamate Diacetate, Polyquaternium-7, Parfum, Potasium Sorbate, Sodium Benzoate and Sorbic Acid.
Additives
Please see ingredients or email ineos.hygienics@ineos.com.
Ensure you use our products safely by always reading the label and product information before use.
Contact: INEOS Hygienics Customer Care (UK & Europe) ineos.hygienics@ineos.com