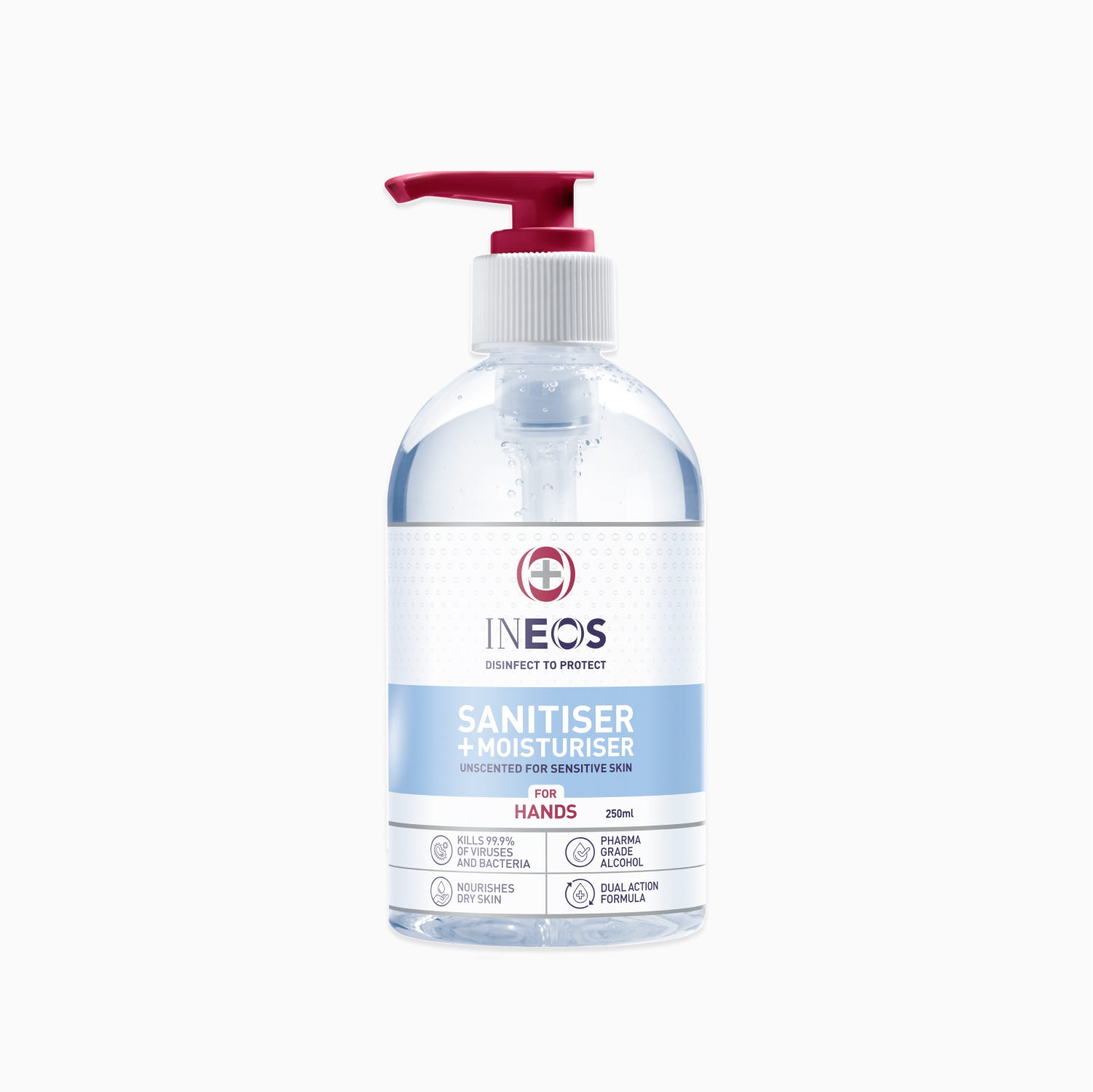 Sanitiser + Moisturiser
Sanitiser + Moisturiser Hand Gel Unscented For Sensitive Skin 250ml
For Hands
Our dual Action Sanitiser + Moisturiser works on two levels. While pharma-grade alcohol provides hospital-grade hygiene, added moisturiser works to protect and repair the skin barrier. Made especially for sensitive skin, this unscented sanitiser removes 99.9% of viruses and bacteria, while keeping hands soft and safe.
Kills 99.9% of Bacteria + Viruses*

Nourishes Dry Skin

Pharma Grade Alcohol

Dual Action Formula
Product Description
Hospital-grade alcohol-based hand disinfection gel.
Application
Can be used personally and commercially to prevent the spread of germs.
Use for general hygiene to disinfect hands. Use after coughing, sneezing, contact with infected material, or potentially contaminated surfaces.
Application Notes
General hand hygiene application: A little goes a long way. Pump sanitiser twice onto dry hands and rub it from the fingertips over the palms and backs of the hands. Allow to dry completely without wiping or rinsing.
Important: Our trusty hand sanitiser does not require the use of towels or tissues, which, if used, may lead to recontamination.
Effective
Removes 99.9% of viruses and bacteria.
Formulation
INEOS Hygienics gel rubs easily into dry hands, without drops and splashes, as is the case with liquid alcohol-based disinfectants.
User-friendly
For frequent use between hand washes.
Moisturising effect
Made especially for sensitive skin, this unscented sanitiser has the added benefit of moisturiser to protect and nourish hands.
Additives
We ensure no fragrance or colouring agents are added. Dries quickly on the hands, so no rinsing with water is required.
Safety Data Sheet
Further information on safety, environmental compatibility, handling, first aid measures and disposal can be found in our safety data sheet.
Operating Instructions
Use biocides carefully. Always read the label and product information before use. The safety information can be found on the label or the safety data sheet.
Durability
The product has a shelf life of 2 years.
Quality Control
Raw materials for the production of this product are checked qualitatively before use. The finished product is regularly subjected to a quality check.
Product Safety
Dermatologically tested risk assessment. The ingredients used generally do not have an allergenic effect on the user. Allergy sufferers should always check the list of ingredients before using the product.
Ingredients
70% Ethanol.