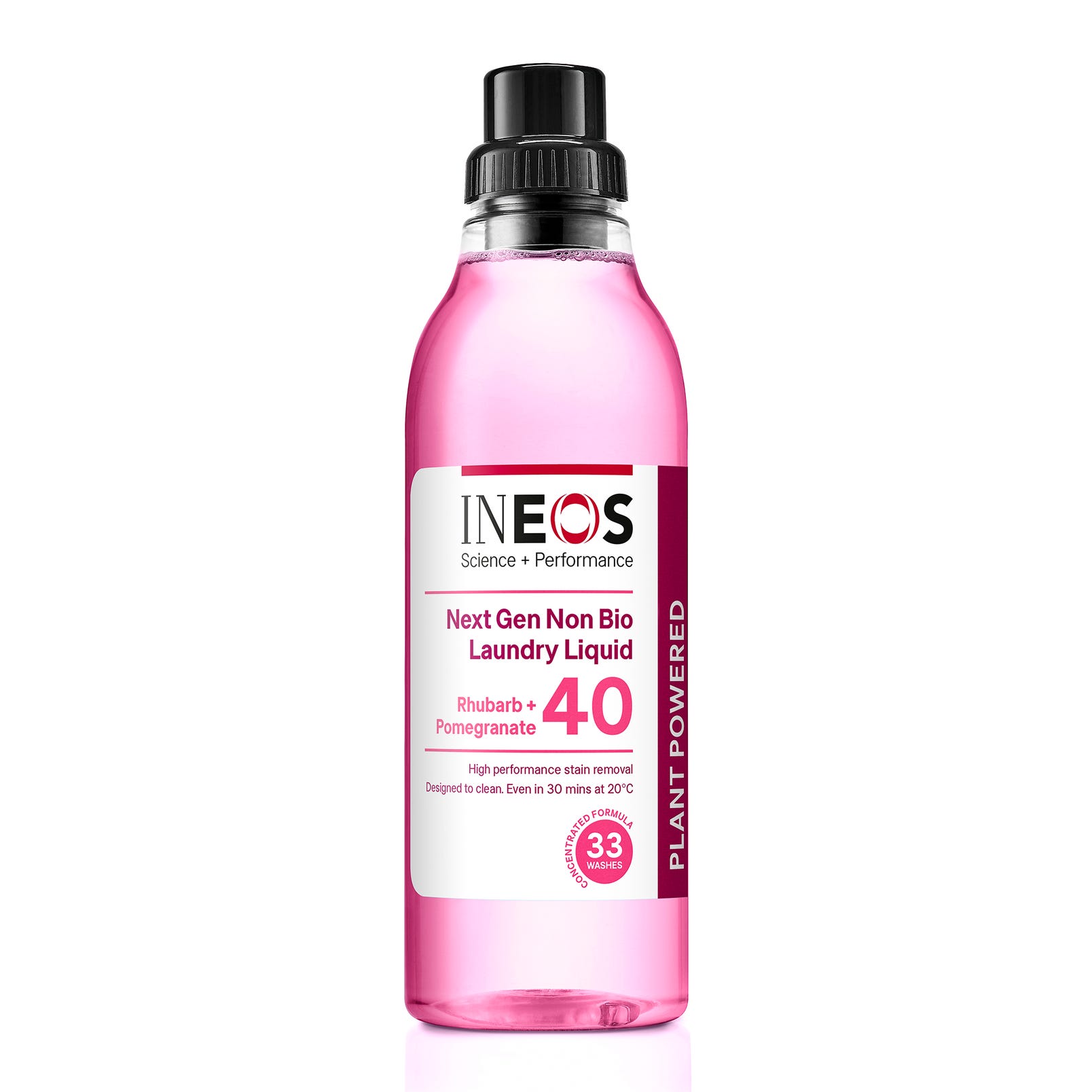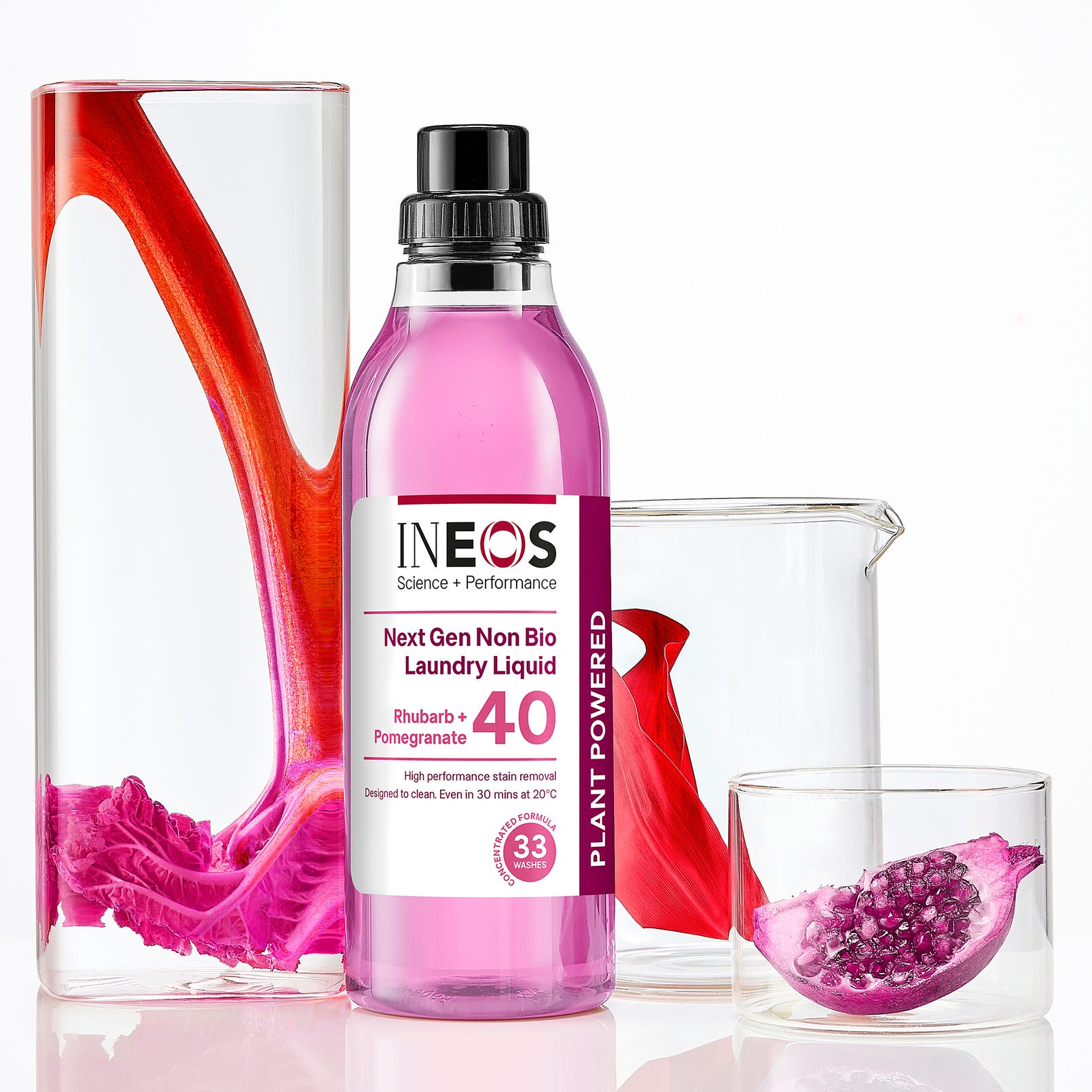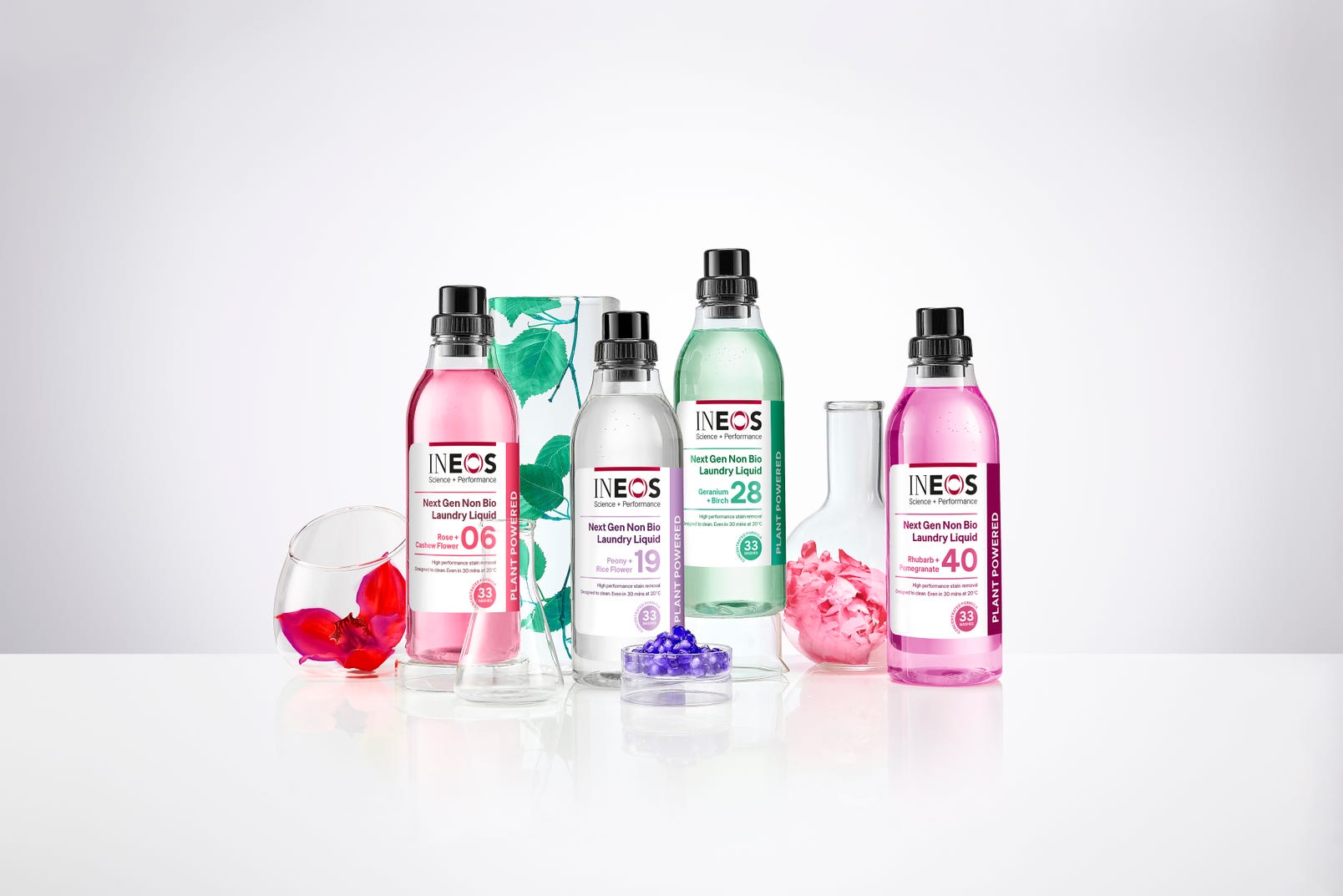 Laundry Liquid
INEOS Next Gen Non Bio Laundry Liquid with Rhubarb + Pomegranate
Fragrance
Rhubarb + Pomegranate
Laundry
At INEOS, we relentlessly optimise every element of our products through science to deliver next generation performance, making light work of the toughest stains.
Made with plant-based cleansers, this non bio concentrated laundry liquid removes stains without using animal enzymes which are known to irritate skin and damage clothes; and delivers amazing results at cooler temperatures, even at 20˚C.
There's even top-level science between the choice of fragrance. Juicy, tart rhubarb and fruity, sweet pomegranate have been shown to give renewed vitality and promote a sense of wellbeing. And, naturally, our packaging is 100% recyclable.
Suitable for sensitive skin

Dermatologically Tested

Plant Powered

Energising
Store in a cool, dry place, out of direct sunlight. Keep upright.
USAGE
HOW TO USE: For standard 4-5 kg wash load, pour 30ml of liquid into your washing machine drawer when washing in soft/medium water, and 40 ml when washing in hard water. For a heavy 6-8kg wash load, pour 40 ml of liquid into your washing machine when washing in soft/medium water, and 60ml when washing in hard water. For the correct wash setting, check your garment label.
FOR HEAVY SOILING: Pretreat by rubbing product directly on stain prior to adding to the wash.
All fragrances across our portfolio are known to enhance performance.
Our INEOS Fragrance Laboratory is our unique fragrance library which characterises our fragrances according to their known performance enhancing benefits.
INEOS FRAGRANCE TECHNOLOGY
Our products contain fragrance technology comprising of purifying essential oils and phytoncides.
Phytoncides are biological particles emitted by plants and trees naturally, which have been shown to inhibit bacteria development and have been credited for their antioxidant and wellbeing priorities and the ability to reduce feelings of stress and fatigue.
WARNING: Causes serious eye irritation.
IF IN EYES: Rinse cautiously with water for several minutes. Remove contact lenses, if present and easy to do. Continue rinsing. If eye irritation persists: Get medical advice/attention. Wash hands and exposed skin thoroughly after handling. Dispose of contents/container in accordance with local/national legislation. Avoid release to the environment. This product should be used in accordance with the product label. Keep out of reach of children.
Do not ingest: We know these look good enough to eat but they aren't edible.
The UK manufacturing site of INEOS Hygienics is certified by LRQA to both ISO9001:2015 Quality Management Systems and ISO14001:2015 Environmental Management Systems.

For further information please contact ineos.hygienics@ineos.com
I AM REFILLABLE
This bottle is scientifically designed to withstand over 1,000 refills. Just unscrew and top up with one of our INEOS refills. (coming soon)
"Perfect clean washing smell. Family members asked what detergent it was as they could smell it."
"I did the entire rugby team's kit. I'm a hero with the lads as it all came out really clean and removed all the horrible sweaty smells."