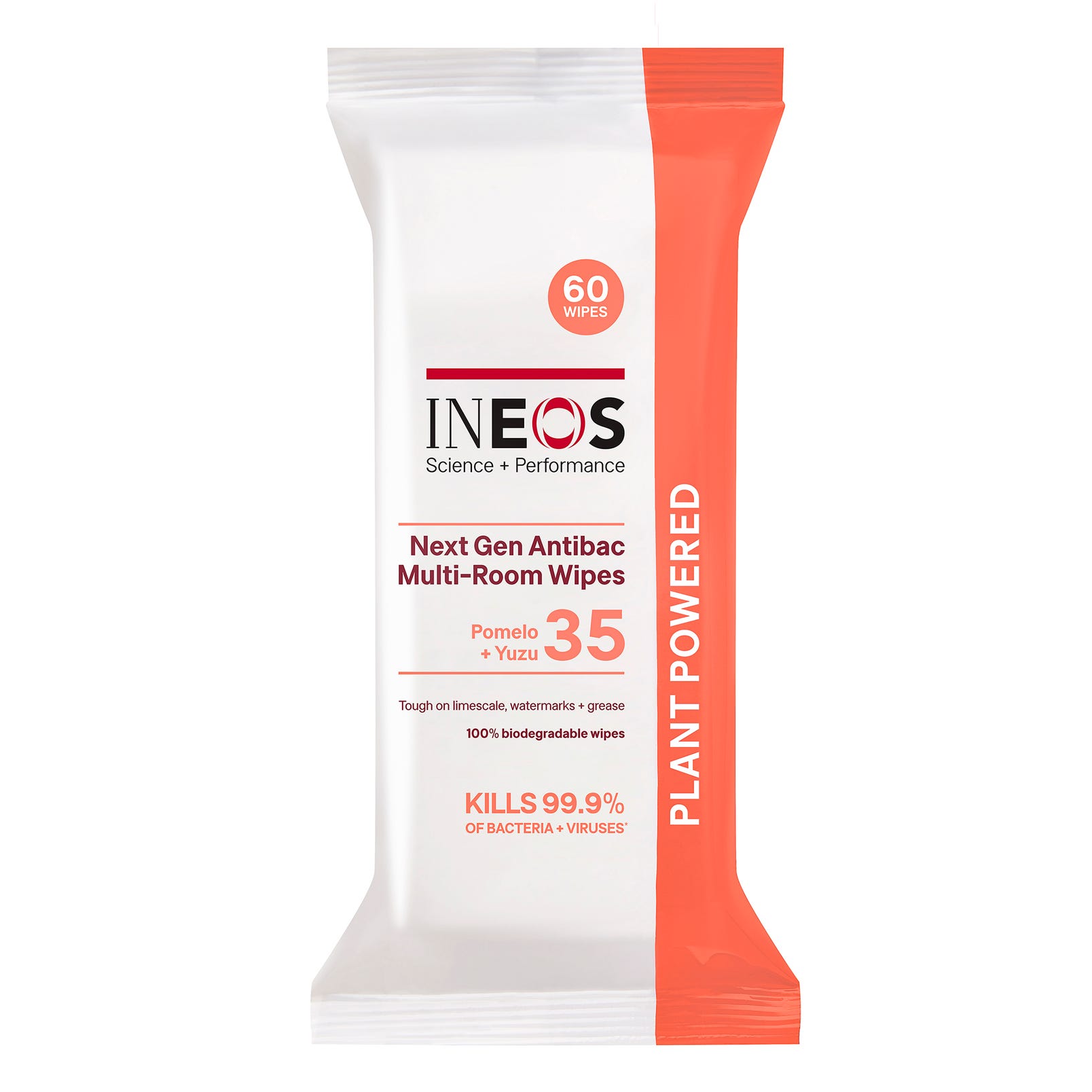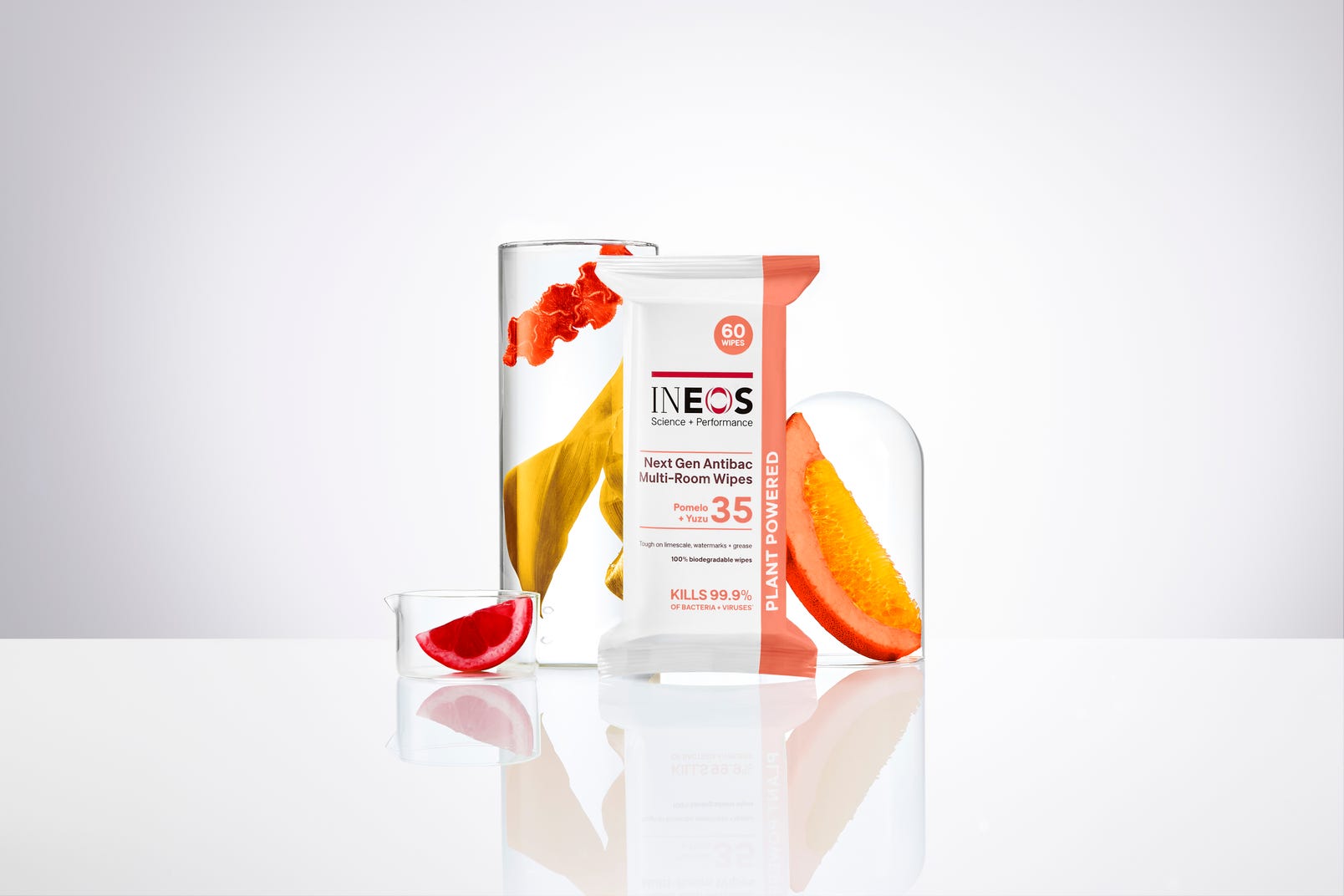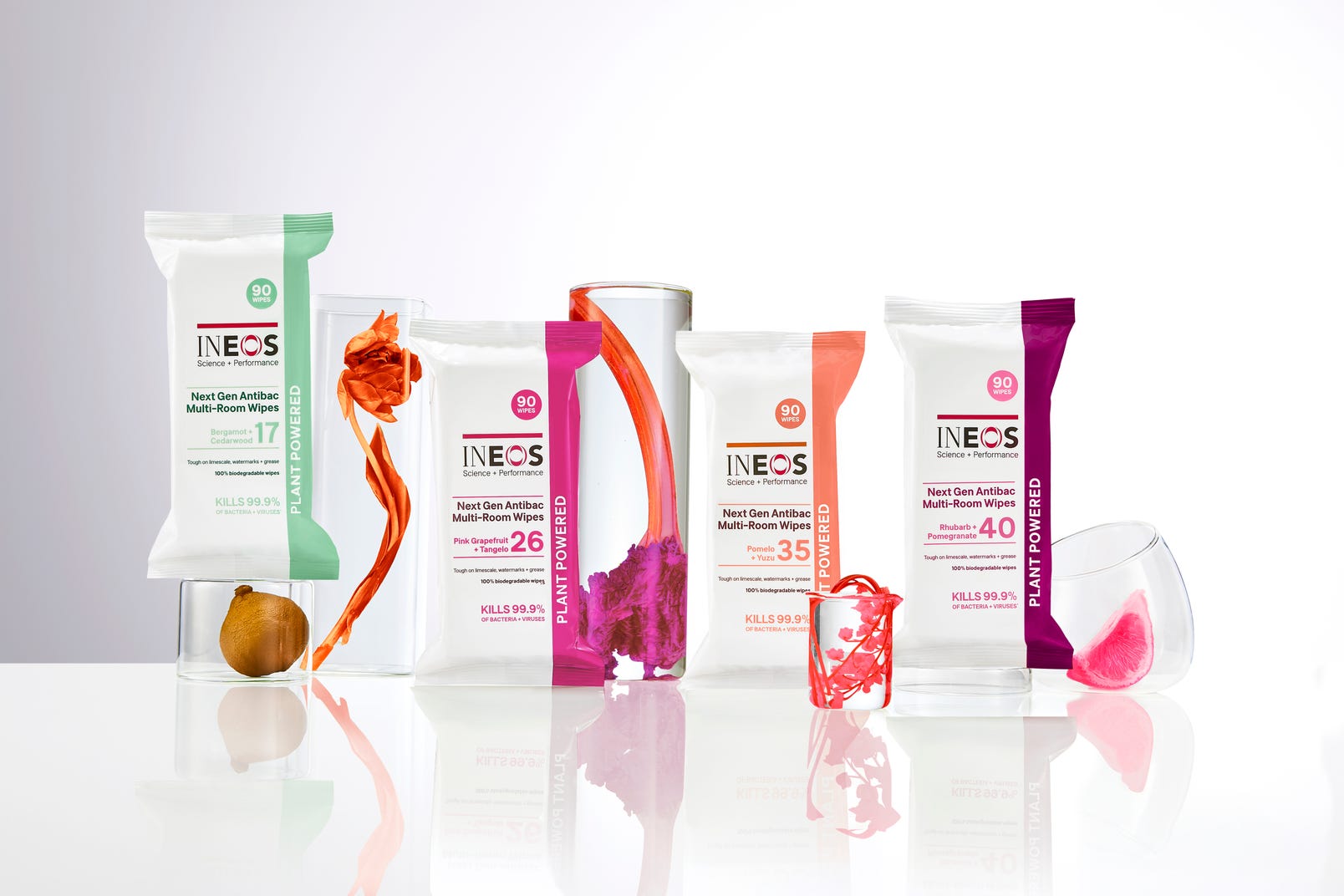 Multi-Room Wipes
INEOS Next Gen Multi-Room Wipes with Pomelo + Yuzu
For Surfaces
At INEOS, we relentlessly optimise every element of our products through science to deliver next generation performance, making light work of the toughest cleaning jobs in every single room of your home.
Made with biodegradable fibres + plant-based cleansers, these wipes not only kill 99.9% of bacteria and viruses*, but wipes out the heaviest grease, grime, limescale and watermarks, meaning it is ideal for both bathrooms AND kitchens. Designed with a unique embossed pattern to capture more dirt than a regular flat wipe, these wipes are a game changer.
There's even top-level science behind the choice of fragrance. Zingy, sweet pomelo and sparkling, vibrant yuzu have been shown to give a new lease of life and promote a sense of wellbeing. And, naturally, our packaging is 100% recyclable.
*Virucidal activity against enveloped viruses
Plant Powered

Multi-Room

Kills 99.9% of Bacteria + Viruses*

Rejuvenating
Store in a cool, dry place, out of direct sunlight. Keep upright.
USAGE
HOW TO USE: Peel back the label and pull wipes through the opening. Reseal the label to retain moisture in the remaining wipes. Wipe surface vigorously, removing all traces of soiling. Leave surface to air dry without wiping or rinsing
All fragrances across our portfolio are known to enhance performance.
Our INEOS Fragrance Laboratory is our unique fragrance library which characterises our fragrances according to their known performance enhancing benefits.
INEOS FRAGRANCE TECHNOLOGY
Our products contain fragrance technology comprising of purifying essential oils and phytoncides.
Phytoncides are biological particles emitted by plants and trees naturally, which have been shown to inhibit bacteria development and have been credited for their antioxidant and wellbeing priorities and the ability to reduce feelings of stress and fatigue.
The UK manufacturing site of INEOS Hygienics is certified by LRQA to both ISO9001:2015 Quality Management Systems and ISO14001:2015 Environmental Management Systems.

For further information please contact ineos.hygienics@ineos.com
I AM REFILLABLE
This bottle is scientifically designed to withstand over 1,000 refills. Just unscrew and top up with one of our INEOS refills. (coming soon)
"They are strong. One wipe will clean a lot of surfaces and they smell natural."
"They are thicker and they do three jobs in one. Removes germs & bacteria, removes stains and soap scale and polishes."