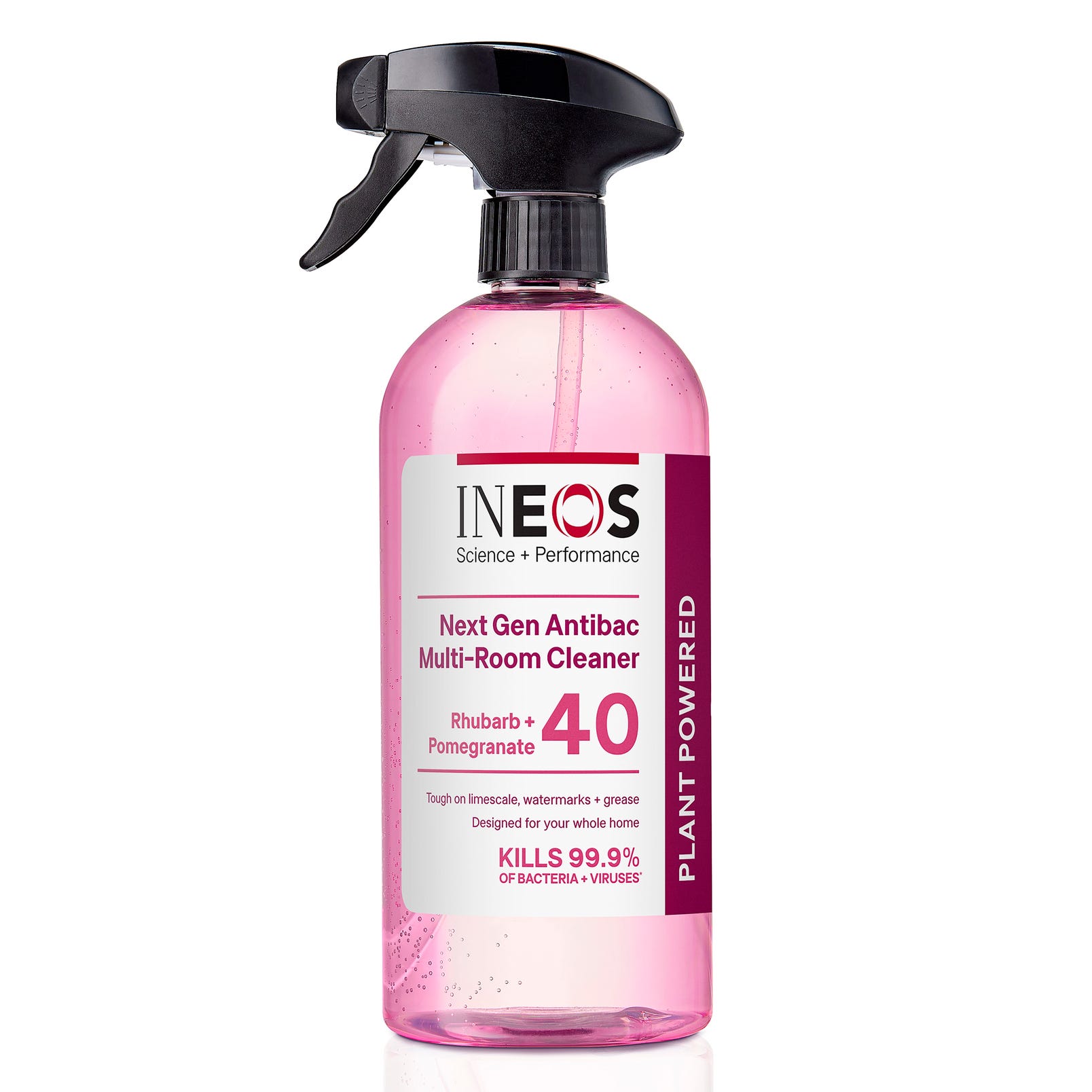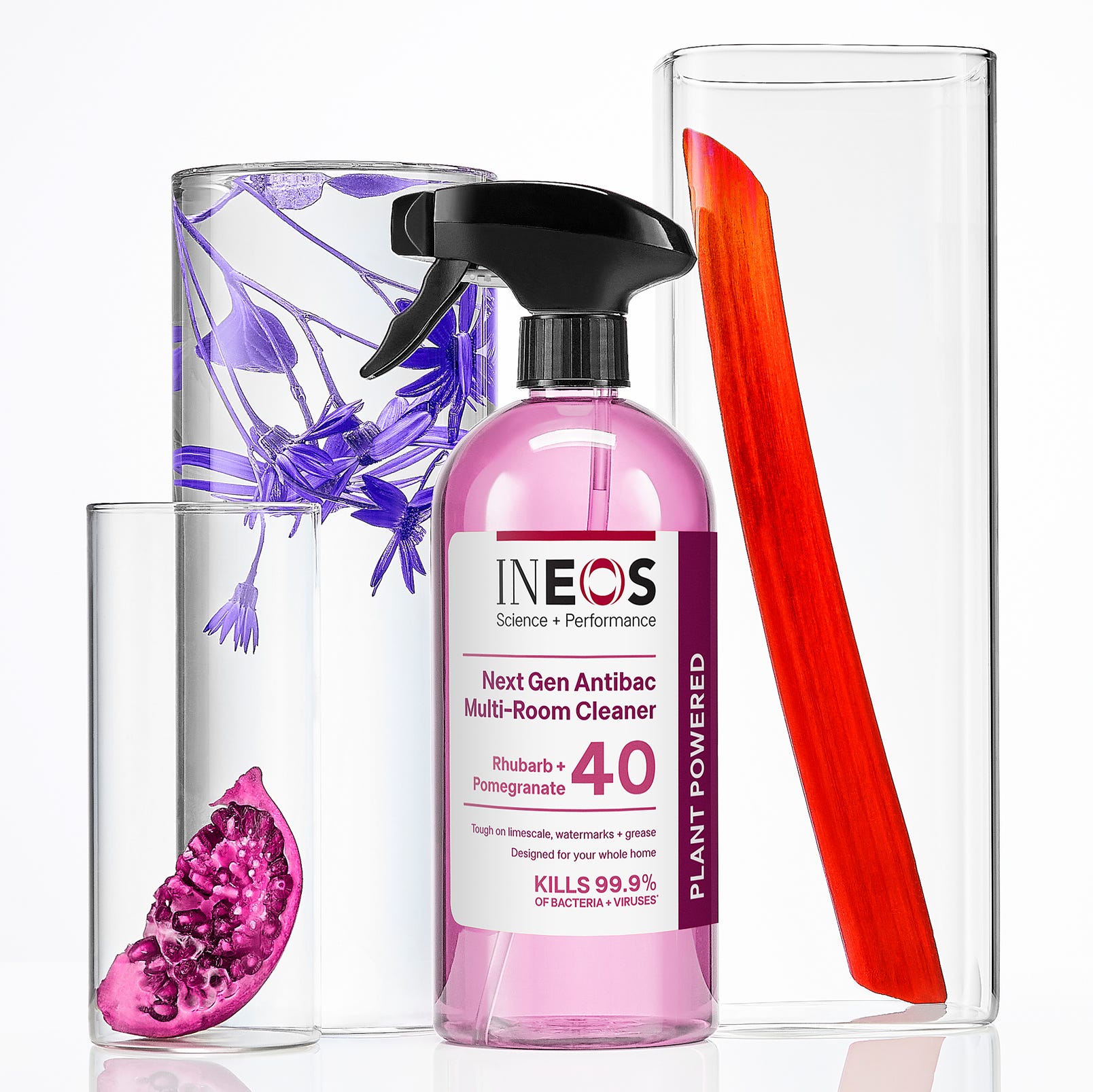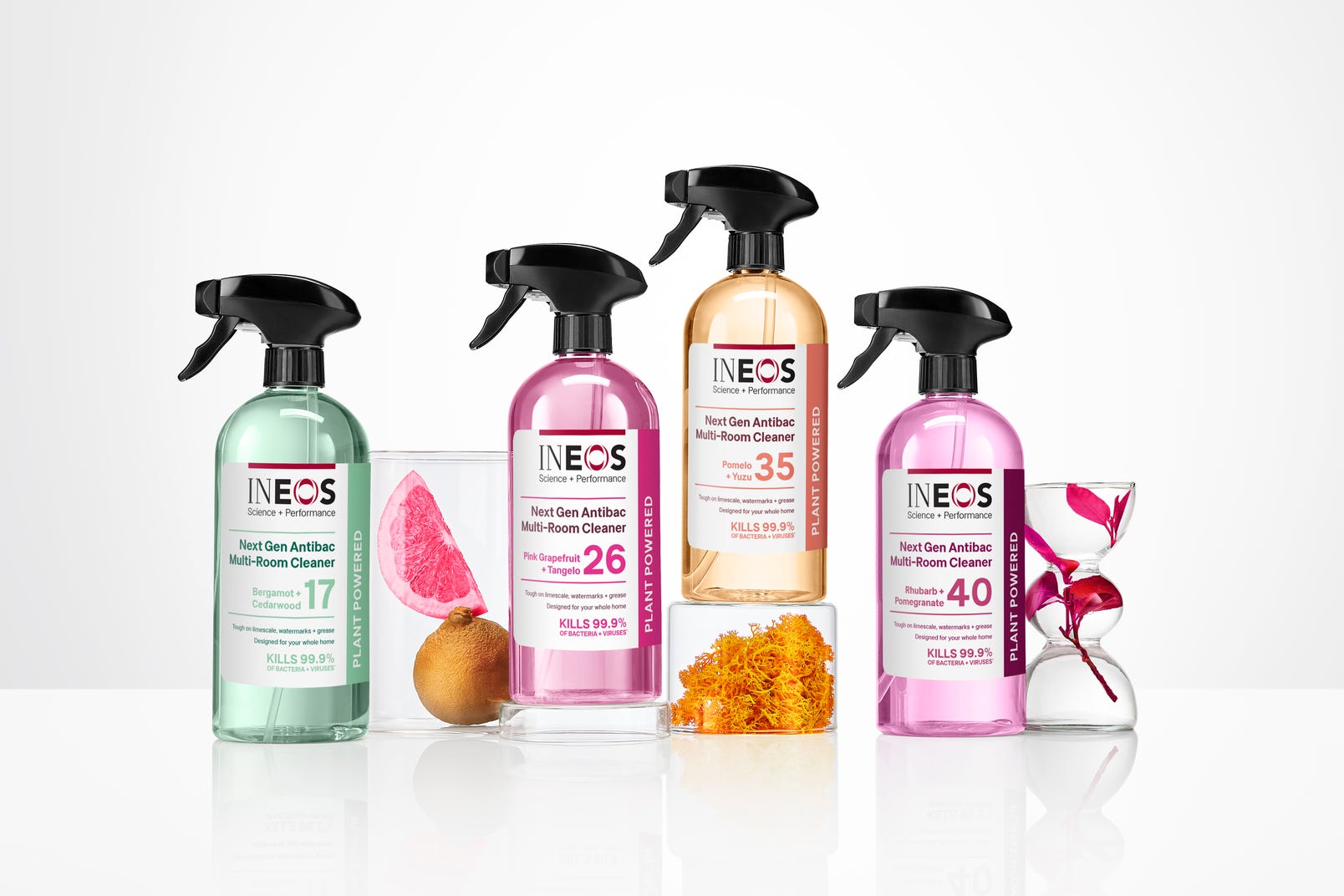 Multi-Room Spray
INEOS Next Gen Multi-Room Cleaner with Rhubarb + Pomegranate
Fragrance
Rhubarb + Pomegranate
For Surfaces
At INEOS, we relentlessly optimise every element of our products through science to deliver next generation performance, making light work of the toughest cleaning jobs in every single room of your home.
Made with plant-based cleansers, it not only kills 99.9% of bacteria and viruses*, but wipes out the heaviest grease, grime, limescale and watermarks, meaning it is ideal for both bathrooms AND kitchens.
There's even top-level science behind the choice of fragrance. Juicy, tart rhubarb and fruity, sweet pomegranate have been shown to give renewed vitality and promote a sense of wellbeing. Naturally, our packaging is 100% recyclable.
*Virucidal activity against enveloped viruses
Plant Powered

Multi-Room

Kills 99.9% of Bacteria + Viruses*

Energising
Store in a cool, dry place, out of direct sunlight. Keep upright.
USAGE
Turn nozzle to one of the spray positions. Choose wide stream for covering general cleaning or choose the concentrated spray for stubborn areas. Simply spray evenly 2 - 3 times directly on to surface.
Wipe over with clean cloth + allow to dry. No need to rinse.
For disinfection leave for 5 minutes before wiping.
Can be used on most types of kitchen and bathroom surfaces: worktops, appliances, sinks, range tops, ovens, walls, working surfaces, cabinets, toilets, baths, shower trays, tiles, bins, and floors. For tough dirt, leave for a few minutes before wiping clean.
In case of uncertainty, test on a small area of the surface. Not suitable for use on marble, unwaxed vinyl and unfinished wood, varnished or painted surfaces. Not for personal hygiene.
All fragrances across our portfolio are known to enhance performance.
Our INEOS Fragrance Laboratory is our unique fragrance library which characterises our fragrances according to their known performance enhancing benefits.
INEOS FRAGRANCE TECHNOLOGY
Our unique fragrance technology includes phytoncides from plants + trees that are proven to offer an enhanced sense of wellbeing.
WARNING: Causes serious eye irritation.
IF IN EYES: Rinse cautiously with water for several minutes. Remove contact lenses, if present and easy to do. Continue rinsing. If eye irritation persists: Get medical advice/attention. Wash hands and exposed skin thoroughly after handling. Dispose of contents/ container in accordance with local/national legislation. Avoid release to the environment. Use biocides safely and sustainably. This product should be used in accordance with the product label. Keep out of reach of children
Ingredients:
Active: Benzalkonium Chloride CAS: 68424-85-1 0.25g/100g
Non active: Citric acid, Non-ionic surfactant, Ethanol, Parfum
Do not ingest: We know these look good enough to eat but they aren't edible.
The UK manufacturing site of INEOS Hygienics is certified by LRQA to both ISO9001:2015 Quality Management Systems and ISO14001:2015 Environmental Management Systems.
For further information please contact ineos.hygienics@ineos.com
I AM REFILLABLE
This bottle is scientifically designed to withstand over 1,000 refills. Just unscrew and top up with one of our INEOS refills. (coming soon)
"Smells very good for an antibacterial solution, it's a fresh scent. Simple to use, good spray action. Clean and freshens as it goes."
"Cleaned well and left a very fresh feel, made dog hairs rinse away easily and left taps and stainless steel shiny with no watermarks. Everywhere had the 'just cleaned smell'."