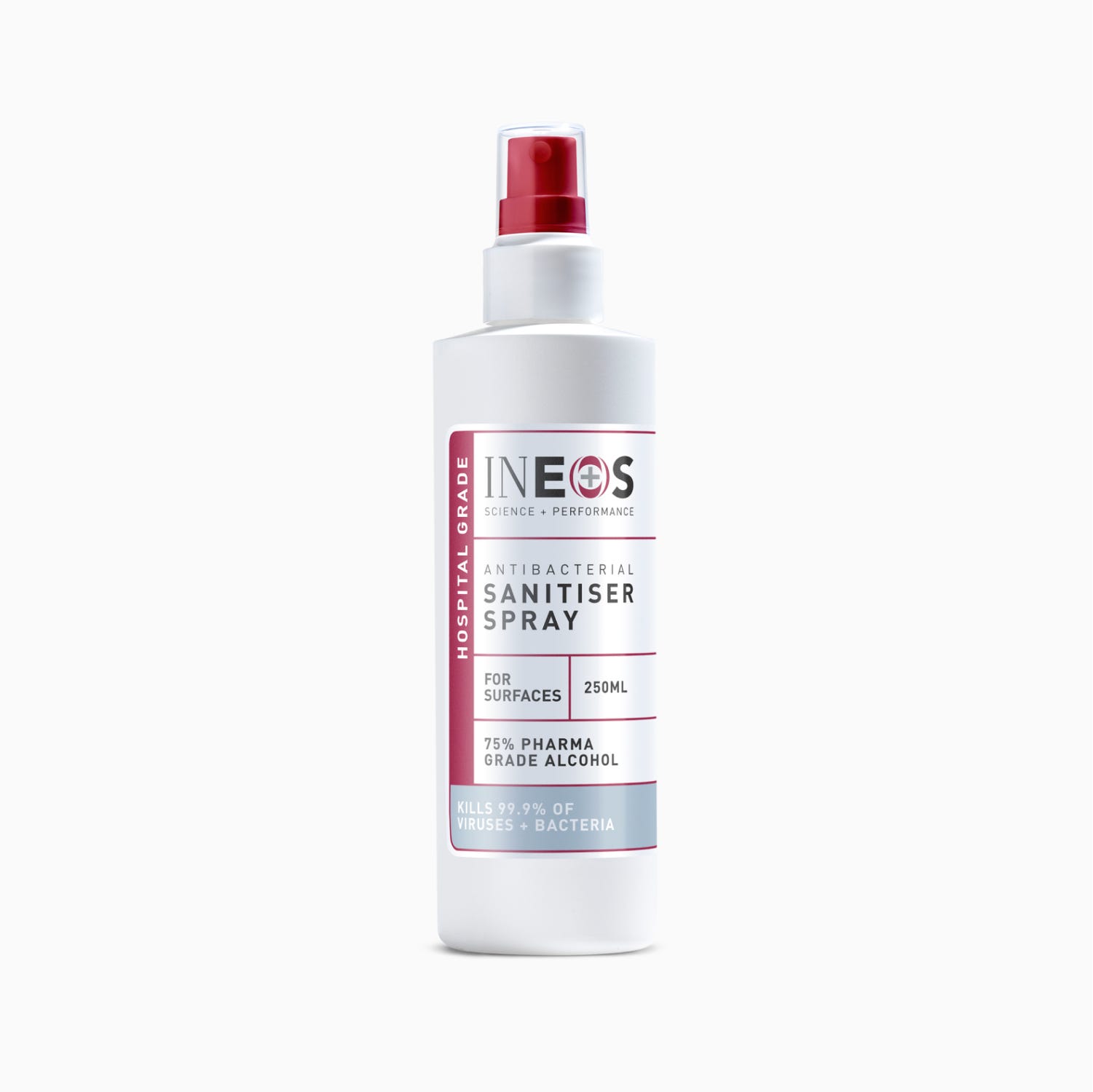 Sanitiser Spray
Anti Viral Anti Bacterial Sanitiser Spray 250ml
For Surfaces
INEOS Hygienics hospital-grade hygiene you've come to expect. Our Sanitiser Surface Spray is effective and efficient - confidently removing 99.9% of viruses and bacteria while dispensing a fine spray for faster application and shorter drying time.
Fragrance Free

Kills 99.9% of Bacteria + Viruses*

75% Pharma Grade Alcohol

Hospital Grade
Product Description
Hospital-grade alcohol-based surface disinfection spray.
Application
Suitable for use both personally and commercially to prevent the spread of germs.
Application Notes
Hard surface application. Shake well and spray onto surface until wet, waiting for a minimum of 30 seconds for effective sanitisation and up to 3 minutes until dry. For food contact surfaces, can also be accompanied by wiping with a clean damp cloth until dry.
Important: The use of towels or tissues may lead to recontamination.
Effective
Removes 99.9% of viruses and bacteria.
Formulation
The spray is easy to use on surfaces. Keep a distance of approximately 15-20 centimetres between the nozzle and surface.
User-friendly
Safe not just for surfaces - but for hands too.
Additives
We ensure no fragrance or colouring agents are added. Dries quickly on the hands, so no rinsing with water is required.
Use without water
Dries quickly on surfaces. No rinsing with water is required.
Safety Data Sheet
Further information on safety, environmental compatibility, handling, first aid measures and disposal can be found in our safety data sheet.
Operating Instructions
Use biocides carefully. Always read the label and product information before use. The safety information can be found on the label or the safety data sheet.
Durability
The product has a shelf life of 3 years.
Quality Control
Raw materials for the production of this product are checked qualitatively before use. The finished product is regularly subjected to a quality check.
Product Safety
The ingredients used generally do not have an allergenic effect on the user. Allergy sufferers should always check the list of ingredients before using the product.
Ingredients
75% ethanol, 20-25% deionised water. Colour and fragrance free