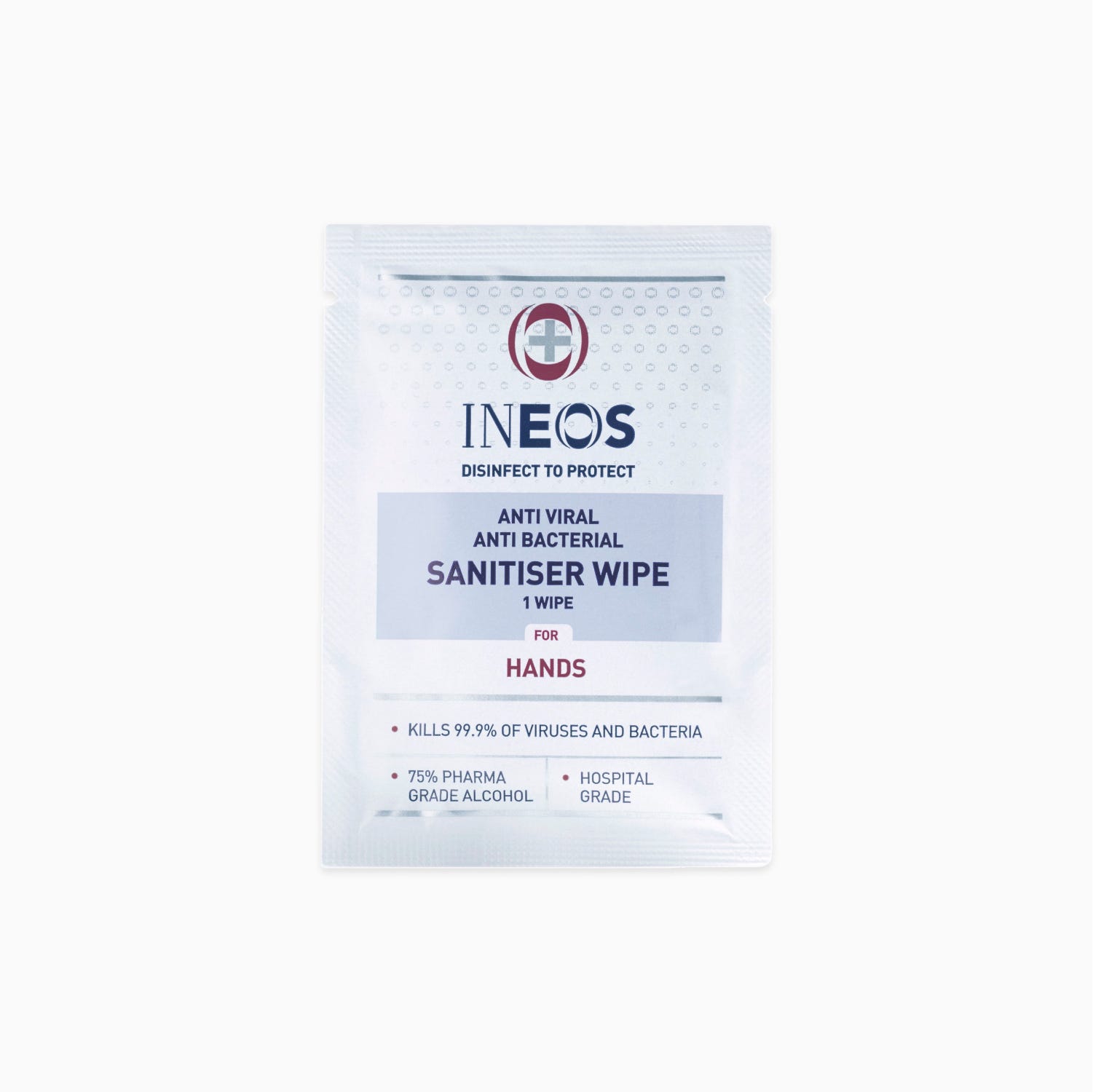 Sanitiser Wipes
Anti Viral Anti Bacterial Sanitiser Wipes - Single
For Hands
Our new range of sanitiser wipes are available in the UK. Made with the same high purity, hospital grade alcohol as our sanitiser gels and sprays, our wipes are available in single sachets in packs of 100 and will soon be followed by 10 and 30 packs for use on hands. Our sanitiser wipes, as with our other products, are effective against 99.9% of viruses and bacteria and will help you target viruses with confidence.
Kills 99.9% of Bacteria + Viruses*

75% Pharma Grade Alcohol

Hospital Grade
Product Description
Hospital grade alcohol-based hand disinfection wipe.
Scope of Application
Suitable for both personal and commercial use and in all facilities and premises to prevent the spread of germs.
Application Usage
Use for general hygiene to disinfect hands e.g. Use after coughing, sneezing, contact with infected material, or potentially contaminated surfaces. Not to be used on broken skin or rest of body.
Application Notes
General hand hygiene application: Tear the packet at the notch, remove the wipe and fully unfold it. Wipe dry hands thoroughly including fingertips and over palms and backs of hands. Do not use on broken skin or rest of body. Allow to dry completely for a minimum of 30 seconds without wiping or rinsing. Important – the use of towels or tissues may lead to recontamination.
Effective
Kills 99.9% of viruses and bacteria.
Formulation
The wipe is easy to rub on your hands.
User-friendly
For use between hand washes.
Moisturising effect
For the skin through the use of an emollient.
Hypoallergenic
The ingredients used suggest a low skin allergy potential. Allergy sufferers are advised to check the list of ingredients before use.
Additives
No fragrance or colouring agents added.Use without water. Dries quickly on the hands. No rinsing with water required.
Safety Data Sheet
Further information on safety, environmental compatibility, handling, first aid measures and disposal can be found in our safety data sheet.
Operating Instructions
Use biocides carefully. Always read the label and product information before use. The safety information can be found on the label or the safety data sheet.
Durability
This product has a shelf life of 12 months.
Quality Control
Raw materials for the production of this product are checked qualitatively before use. The finished product is regularly subjected to a quality check.
Product Safety
Hypoallergenic risk assessment: The ingredients used generally do not have an allergenic effect on the user. Allergy sufferers should always check the list of ingredients before using the product.
Ingredients
75% ethanol, 20-25% deionised water. Colour and fragrance free
Formulation
| | |
| --- | --- |
| Composition | Formula Targets (wt%) |
| 1. Denatured Ethanol | 70-80 |
| 5. Emollient | 0.1-0.2 |
| 6. Deionised Water | 20-30 |
| | |
| --- | --- |
| Proven Efficacy | Method |
| Bactericidal activity | EN13727 |
| Bactericidal activity | EN1500 |
| Yeasticidal activity | EN13624 |
| Virucidal activity | EN14476 (30 - 120 s) |
| *Efficacy evaluations were performed on all reference test organisms in accordance with the Biocidal Products Regulation | |
For further information please contact ineos.hygienics@ineos.com
New